High Commissioners to Bangladesh pay a joint visit to Gulshan Society Jame Mosque in Gulshan.
Australian High Commissioner to Bangladesh, HE Ms Julia Niblett, and New Zealand high commissioner to India, Sri Lanka, Bangladesh and Ambassador to Nepal, HE Ms JoannaKempkers, paid a joint visit to Gulshan Society Jame Mosque in Gulshan, Dhaka, on 15 September 2019. Founding Secretary-General of the Mosque Committee, Mr Jaharul Islam Chowdhury, welcomed the High Commissioners and provided them a tour of its premises.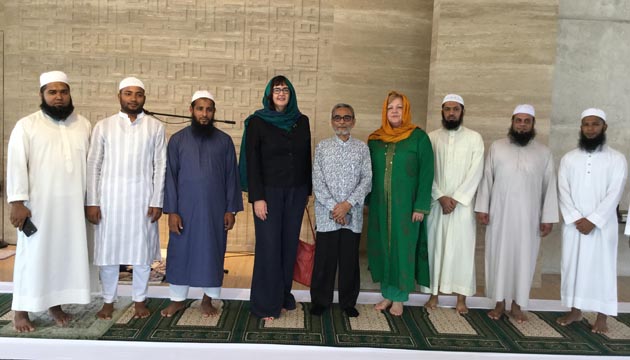 "It was a privilege to have been able to visit this beautiful mosque and we are overwhelmed bythe warm welcome extended to us", said Australian High Commissioner Julia Niblett. "As amulti-cultural country, Australia has benefited from its principles of diversity, inclusion andtolerance – these are values that we hold dear," she said.
As a country committed to tolerance and diversity, New Zealand shares the same values. "NewZealand is a nation of more than 200 ethnicities and 160 languages. Diversity and inclusionlie at the core of our values as a country," High Commissioner Joanna Kempkers added.
Mr Jahurul Islam Chowdhury, who has been associated with the Gulshan Society Jame Mosquesince its inception, said: "It was a pleasure to receive HE Niblett and HE Kempkers at themosque. We welcome their visit and look forward to receiving them again."
Both High Commissioners were impressed with the unique architecture of the mosque,particularly for its maximisation of space in an inner-city location and the inspirational feelingthe building evokes.