Hosts Russia win World Cup opener against Saudi Arabia
The 2018 FIFA World Cup in Russia began in Moscow on Thursday night with a colorful ceremony and Russia's thumping victory over Saudi Arabia in the opening game.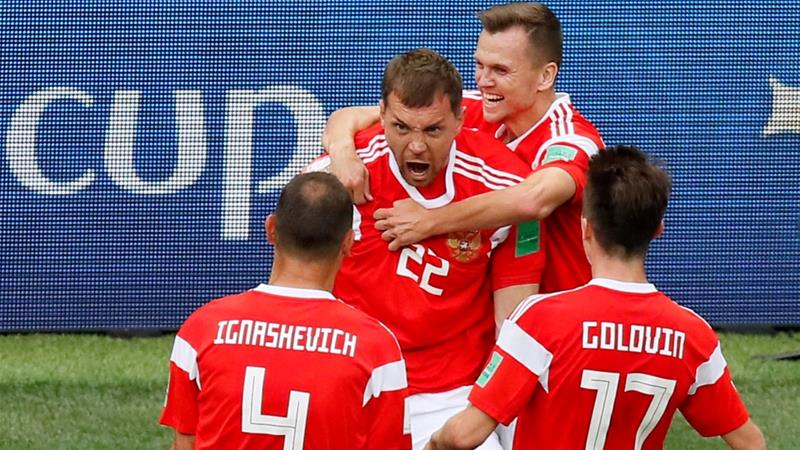 The long-awaited 2018 FIFA World Cup kicked off on Thursday at the legendary Luzhniki Stadium, which has a seating capacity of 80,000. The opener's attendance was reported at over 78,000 spectators.
Both sides looked confident at the beginning of the opening game of the global football championship, however hosts Russia, backed by the thunderous roar of supporters at the home stadium, opened the score into the 15th minute of the match.
About half an hour into the first half, Russia's scoring midfielder Alan Dzagoyev boosted off for an offensive rush on the goal of the opponents, but fell down. Head Coach Stanislav Cherchesov replaced injured Dzagoyev with Denis Cheryshev, who also plays as a left winger for Spain's Villarreal.
Less than a minute remaining in the first half, it was Cheryshev to up the score, shooting the ball into the upper left of the Saudi Arabian net to leave 2-0 displayed on the stadium's huge digital screens as both teams retreated for the 15-minute break.
About half an hour in the closing half, Russia's Head Coach Cherchesov opted for another replacement and sent in Artyom Dzyba in place of Fyodor Smolov. The reshuffle brought an immediate result as less than a minute after hitting the pitch Dzyuba put a header into the right upper corner of the opponents' net.
The score of 3-0 seemed to remain flashing unchanged until the final whistle in the game, but in the three-minute stretch of the added time Russia's Denis Cheryshev upped the score to 4-0 with a swift shot of the ball over the Saudi Arabian goalkeeper.
This was not enough for the hosting team and less than a minute later Russia's Alexander Golovin scored another goal with a free kick sealing the final score at impressive 5-0.