Independence and National Day of Bangladesh 2020 observed in Copenhagen
Bangladesh Embassy in Copenhagen observed the 49th anniversary of the Independence and National Day of Bangladesh today with due solemnity.
In the morning, Bangladesh Ambassador to Denmark Muhammad Abdul Muhith hosted the national flag at the Embassy in the accompaniment of the national anthem.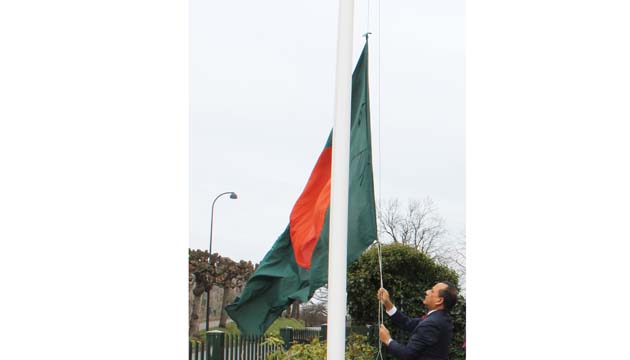 Later a discussion meeting and a munajat were held at the Chancery. At the outset, a one-minute silence was observed in memory of the Father of the Nation Bangabandhu Sheikh Mujibur Rahman and the vaillant freedom fighters of the War of Liberation. Messages of Hon'ble President, Hon'ble Prime Minister, Hon'ble Foreign Minister and Hon'ble State Minister for Foreign Affairs, released on the occasion were read out. In his speech, Ambassador Muhith said, in Mujib Year it is our resolute commitment to refresh the resolution to uphold the spirit of the 1971 Liberation War and build a 'Sonar Bangla' as dreamt by Father of the Nation Bangabandhu Sheikh Mujibur Rahman, under the able and dynamic leadership of Prime Minister Sheikh Hasina. Highlighting Government's wide range of initiatives to contain the transmission of Coronavirus he urged to draw strength from the essence of the Liberation War and join hands to collectively fight this global pandemic.
A special munajat was offered for the salvation of the departed souls of those who made supreme sacrifices to liberate the country, as well as for the continued development, peace and prosperity of Bangladesh.
Due to shut downand restrictions to contain Coronavirus in Denmark the Embassy scaled-down the celebration and postponed the National and Independence Day Reception which will be held in an elaborate and festive manner as soon as the situation improves.