Independence & National Day of Bangladesh celebrated in Nigeria
Bangladesh High Commission in Abuja, Nigeria celebrated 49th anniversary of the great Independence and National Day in a befitting manner and with festivity.
The day's programme began at 10 am with the hoisting of the national flag by Mr. Md. Shameem Ahsan,ndc, High Commissioner at the Chancery in the presence of the officers and officials. It was followed by placing of floral wreath on the portrait of the Father of the Nation Bangabandhu Sheikh Mujibur Rahman. Messages from President, Prime Minister, Foreign Minister and State Minister for Foreign Affairs were read out, followed by a special prayer for the salvation of the departed souls of Bangabandhu, his martyred family members and martyrs of the War of Liberation. A documentary on the War of Liberation and development journey of Bangladesh was screened to mark this Day.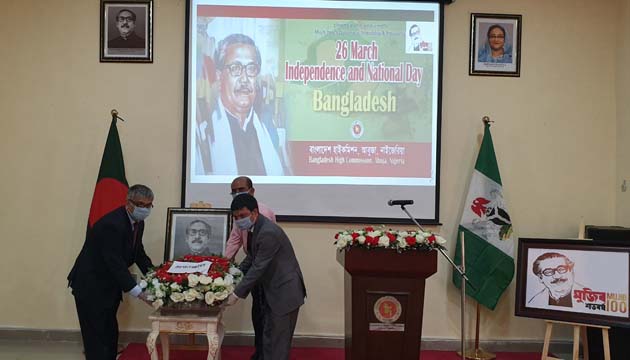 During the brief discussion, Mr. Md. Shameem Ahsanpaid rich tribute to the Father of the Nation Bangabandhu Sheikh Mujibur Rahman, martyrs and freedom fighters. The High Commissioner also recalled the contribution of the foreign friends. Mr. Ahsan explained how Bangladesh started its journey as a war-torn nation with a lot of challenges but today it has become a proud country as well as 'a role model ' in the developing world.  While touching on the tremendous successes at home and abroad during the leadership of the Prime Minister Sheikh Hasina which raised the profile of the country globally,High Commissioner told that Bangladesh is moving forward being imbued with the spirit of the Liberation War to materialize the dream of  ' Golden Bangla'  of  Bangabandhu. He also mentioned that Golden Jubilee of the glorious independence will be celebrated with great enthusiasm in 2021.  Mr. Bidosh Chandra Barman, First Secretary also spoke on the occasion moderated by Mr. Mohammad Shah Ekramul Hoque, Head of Chancery of the Mission.
Due to outbreak of Coronavirus and prevailing fear and panic worldwide including in Nigeria, the High Commission decided to organize the event in an in-house setting and with the presence of the officials only. The Independence and National Day Reception has also been cancelled due to the same reason.