International Mother Language Day celebrated in Copenhagen in a multicultural ambience
Bangladesh Embassy in Copenhagen celebrated International Mother Language Day in a multicultural set-up at the Asia House. It organized a discussion session and a cultural programme with the participation of eminent performers from Bangladesh, Denmark, Nepal, India, China, and Sweden.  A good number of Ambassadors, diplomats and members of Internal Organizations, media personnel, and academia as well as civil society representatives and expatriate Bangladeshi citizens living in Denmark attended the lively discussion session and enjoyed the cultural soiree.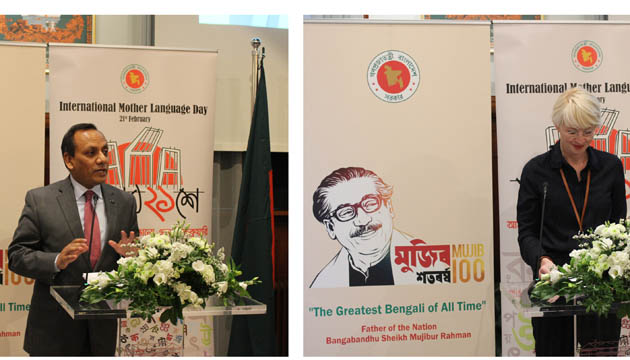 The Secretary-General of UNESCO Commission of Denmark Ms. Anne Enemark while speaking as special guest acknowledged the contribution of Bengalis to establish the right to speak in mother languages across the world and commented that the recognition of 21 February as the International Mother Language Day by UNESCO immensely helps to underline the importance of language for peaceful and progressive societies. She also elaborated on the UNESCO's theme for the International Mother Language Day 2020 – 'Languages without borders'. Professor Per Breakhoff of the Technical University of Denmark in his key-note speech highlighted on the importance of information technology and machine language as an effective tool to preserve and protect the mother languages around the world which are facing extinction at an alarming rate.
In his speech, Bangladesh Ambassador to Denmark Muhammad A Muhith paid deep homage to the memories of the language martyrs and the Father of the Nation Bangabandhu Sheikh Mujibur Rahman, who steered the language movement in 1952 from within the confines of the prison cell. He commented that International Mother Language Day is a gift of Bangladesh to the international community which is now being celebrated worldwide with a message of building peaceful, inclusive and sustainable societies through the promotion of cross border and shared languages. He also mentioned that the seed of Bangladesh's independence was sown in 1952 with the supreme sacrifices made by the sons of the soil during the heroic language movement.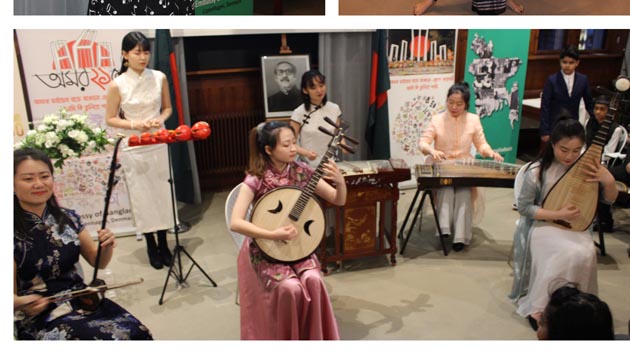 Later, the audience was enthralled with the hour-long cultural performances with traditional musical instruments of India, China and Denmark and dance performances of Nepal, Bangladesh, and Sweden. The programme was rounded off with an array of Bangladeshi foods. Earlier, the day began with the lowering of National Flag at half-mast in the Embassy of Bangladesh by Ambassador Muhith in presence of the Embassy officials in the morning.