Japan Embassy organizes the Classic Japanese Recital in Bangladesh, marking the 50th anniversary of establishing diplomatic relations between Japan and Bangladesh.
The embassy of Japan organized a "Dhaka Classics Japanese Recital" at the Ambassador's residence in commemoration of the 50th anniversary of the establishment of diplomatic relations between Japan and Bangladesh.
The classical music recital was presented by a visiting Japanese pianist in London, Mrs.NEGISHI Yuki, and Dhaka Classics, an international group of outstanding musicians in Dhaka directed by Ms. Kelley Taylor. The other four performers of Dhaka Classics on the evening are as below.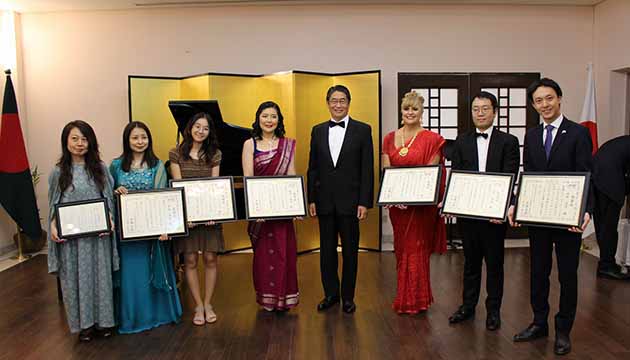 NAKATSUKA Miwa: Piano ,Yebin Yun: Piano,YAMADA Keisuke: Flute YAMADA Eiji: Oboe
Yuki has established herself as a pianist of rare poetry, passion, and virtuosity, captivating audiences wherever she performs around the world. Yuki has already performed in over 500 concerts in the U.K. alone, including many of the most important halls and festivals, and regularly performs about 30 concerts a year internationally. On the night, Yuki played "Clair de Lune" by Debussy, "Rhapsody in Blue" by Gershwin, and "Merry Christmas Mr. Lawrence" by Ryuichi Sakamoto, which enthralled her audiences.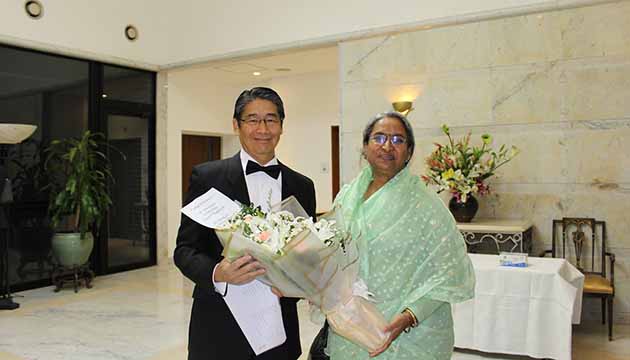 The concert started with the opening remarks of Ambassador ITO Naoki, who appreciated cultural exchanges beyond boundaries through music. H.E. Dr. Dipu Moni, Minister for Education, H.E. Dr. Shamsul Alam, and State Minister for Planning graced the occasion. Bangladeshi government officials, the business community, and cultural personalities enjoyed the recital. They were fascinated by the beautiful tunes of western classics, including Waltz by Chopin or Carmen Fantasy by Bizet, and Japanese songs like "Furusato no Shiki," a Japanese Folk Song Medley. Nodame Choir, a Japanese Choir in Dhaka, has also performed.