Japan Promotes Peace Through Sport.
On 17 June, on an occasion of a visit of Goodwill Ambassador of the United Nations High Commissioner for Refugees (UNHCR), MIYAVI- renowned Japanese musician, to the refugee settlements in Cox's Bazar, the Embassy of Japan and UNHCR organized a hand-over ceremony of football equipment. On 18 June, areception to promote peace through sportwas also heldat the official residence of Ambassador Hiroyasu Izumi. H.E. Mr. Zahid Ahsan Russel, State Minister, Ministry of Youth & Sports, and representatives fromBangladesh Olympic Association as well as other sport organizationsattended the reception.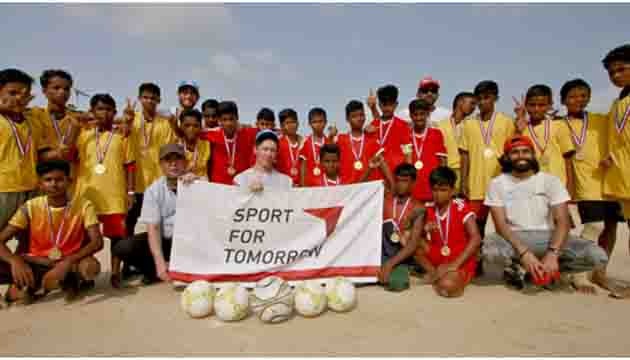 The football equipment was donated from the people of Japan to the refugees and handed over to UNHCR through MIYAVI. In Cox's Bazar, MIYAVI met the refugees and played football with refugee children with the donated equipment as well as sang songs together. It is his second visit to Cox's Bazar after February 2018 .
At the reception, Ambassador Izumi mentioned that the power of sport can unite and solidify people regardless of race or nationality. Japan will host Rugby World Cup in 2019 and Olympic/ Paralympic Games in 2020, which will be an opportunity for people all around the world including refugees to enjoy and share the special moment together. Mr. Steven Corliss, the Representative of UNHCR Bangladesh, said "Sportsbring people together across the boundaries of language, culture, nationality and legal status. They help displaced people to recover from trauma and to give their life purpose. UNHCR is grateful that the Refugee Olympic Team will again participate in the 2020 Summer Olympics in Tokyo hosted by Japan."
Japan will host Rugby World Cup for the first time in Asia, and the matches will be organised across Japan from September to November this year. Following this event, Tokyo will host Olympic and Paralympic Games in summer 2020.