Japan provides critical funding to WFP's lifesaving food assistance for the Rohingya in Bangladesh
The Government of Japan has provided a new contribution to WFP's life-saving food assistance for the Rohingya refugees in Bangladesh. Following the US$ 1 million emergency food assistance in March of this year, we are pleased to announce our decision to provide US$ 4.4 million in life-saving food assistance to the Rohingya through the WFP," said H.E. Kiminori Iwama, Ambassador of Japan to Bangladesh, "We hope that this grant will help alleviate the severe food crisis in the camps. Japan will continue to work towards a durable settlement, including repatriation to Myanmar, and will cooperate with international organizations, including the WFP, to improve the lives of the refugees and the host communities."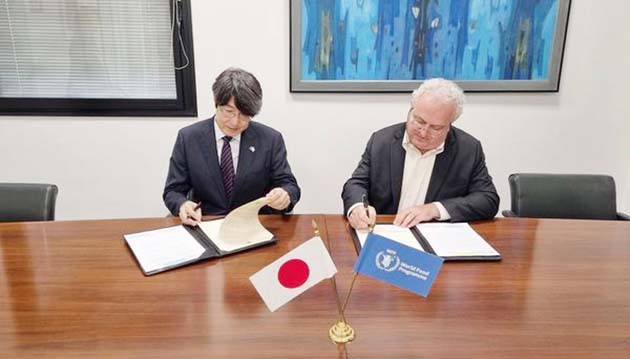 Without livelihood opportunities, the Rohingya rely entirely on humanitarian assistance to meet their basic needs. Due to a lack of funding, in March, WFP's food assistance for the entire Rohingya population in the Cox's Bazar camps had to be cut from US$12 to $10, then in June, to $8 per person, per month. With less food to get by, families are left with grim choices to make ends meet, making them even more vulnerable to violence, exploitation and human trafficking.
Already, four in 10 families were not consuming enough food and 12 percent of children were acutely malnourished. This was before the ration cut.
While Bangladesh missed the eye of Cyclone Mocha, all camps were affected, with 40,000 shelters – made of bamboo and tarpaulin – damaged or destroyed. There is an urgent need to replenish food stocks as monsoon season sets in.
"At a time when we have been forced to cut food rations for the Rohingya families, this contribution from Japan could not have been more timely," said Dom Scalpelli, WFP Resident Representative and Country Director. "We hope more donors will step up and keep the plight of the Rohingya high on their aid agenda. We are appealing for US$ 48 million to restore the full ration. Anything less than US$ 12 has dire consequences not only on nutrition for women and children, but also protection, safety and security for everyone in the camps."