Malta to explore new business opportunities in Bangladesh
Bangladesh and Malta agreed to begin 'new era of cooperation' to invigorate bilateral relations to achieve concrete benefits for the  peoples of the two countries.
Maltese Foreign Minister praised the leadership role played by Bangladesh government in managing the protracted Rohingya crisis and assured to extend continued support for peaceful resolution of the crisis.
The two Foreign Ministers signed two MOUs after the bilateral talks, respectively, on: (a) regular holding of Political Consultations, and (b) cooperation between Diplomatic Training Academies of the two countries.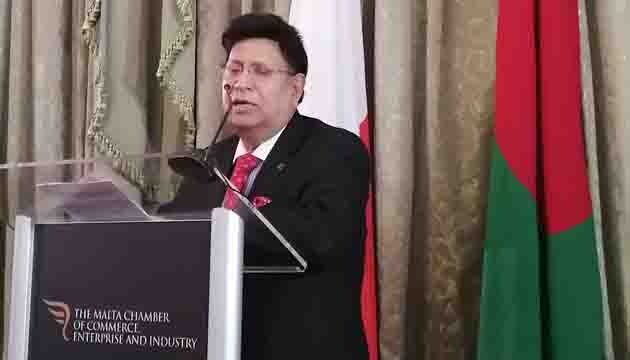 In the afternoon both Foreign Ministers attended 'Bangladesh Malta Business Forum' hosted by the Malta Chamber of Commerce, Enterprise and Industry, in collaboration with Bangladesh Embassy in Greece, with concurrent accreditation to Malta.
Later in the evening, Foreign Minister Dr. Momen attended a reception hosted by the Bangladesh Community in Malta, where Maltese Foreign Minister Abela joined along with his spouse.
Bangladesh Ambassador to Greece, with concurrent accreditation to Malta, Md Jashim Uddin and Director General (West Europe and EU) of the Ministry of Foreign Affairs Mohammad Khorshed A Khastagir, aming others, were present in the meetings.
Foreign Minister Dr. Momen also met with the Speaker of the Maltese Parliament on 23rd July 2019.