Netherlands Ambassador to Bangladesh announced an additional 5.9 million euro of Dutch funding to help both the Rohingya and their host communities in Cox's Bazar.
During his visit to the Rohingya camps, Netherlands Ambassador to Bangladesh Mr. Harry Verweij announced an additional 5.9 million euro of Dutch funding to help both the Rohingya and their host communities in Cox's Bazar amidst this humanitarian crisis.
Ambassador Verweij lauded the Government of Bangladesh for their response to the influx of Rohingya in 2017, hosting nearly a million Rohingya refugees and advocating for their safe, voluntary and dignified return to Myanmar. Together with the great work on the ground from NGO's and UN agencies, the government of Bangladesh has provided essential services and guaranteed basic human rights to the Rohingya.
"3.9 million euros will be allocated to the World Food Program's (WFP) Safe Plus Program. This program directly benefits the host communities through initiatives such as homestead gardening and fishponds, as well as enhancing the livelihoods in the Rohingya camps by the additional goods that the host communities will bring into the local market," the Ambassador said.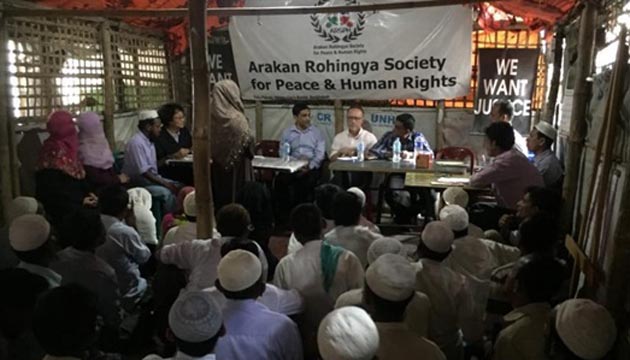 "The other 2 million euro will be allocated to strengthen UNHCR activities to ensure continued protection of the Rohingya, specifically towards the Rohingya women and girls who have become victim of sexual violence," he added.
In Cox's Bazar the Ambassador spoke with Refugee Relief and Repatriation Commissioner (RRRC) Md. Mahbub Alam Talukder and Deputy Commissioner (DC) Md. Kamal Hossain about the additional funding and expressed his concerns regarding some of the recent developments such as the lack of internet services in the camps. He assured both RRRC Talukder and DC Hossain the continuing support of the Netherlands to Bangladesh.
He also said that in such a complex crisis situation the Netherlands supports Bangladesh with regard to various aspects including accountability.
In the camps the Ambassador met with WFP and UNHCR. There he observed firsthand the SafePlus program by WFP with early successes with regard to reforestation and the establishment of e-voucher systems resulting in a better food distribution. As well he observed the UNHCR activities including health services, monsoon and emergency response systems and registration and protection measures.
The Ambassador also spoke with moderate Rohingya leaders with whom he concluded that repatriation is not a date or an event but a process which takes time.
"I am sure with the close relationship we have with Bangladesh, that we will remain to stand together to ensure the safe, voluntary and dignified return of the Rohingya to Myanmar," the Ambassador concluded.