Netherlands' Hendrix Genetics keen to expand business in Bangladesh
Hendrix Genetics (HG), one of the world's renowned animal breeders, with businesses across the continents, expressed their desire to expand their business in Bangladesh. Mr. Thijs Hendrix, President of the company expressed this interest while receiving Bangladesh Ambassador Sheikh Mohammed Belal at their Headquarters at Boxmeer, the Netherlands on Monday.
Hendrix Genetics is a multi-species animal breeding, genetics and technology company which was established in 1991. The company is highly engaged in high-tech research and services in sectors ranging from poultry, meat, fish and aquaculture. It has breeding programs in turkeys, layers, guinea fowl, salmon, shrimp and trout. With over 3500 employee, HG runs breeding centers in the Netherlands, France, and Canada.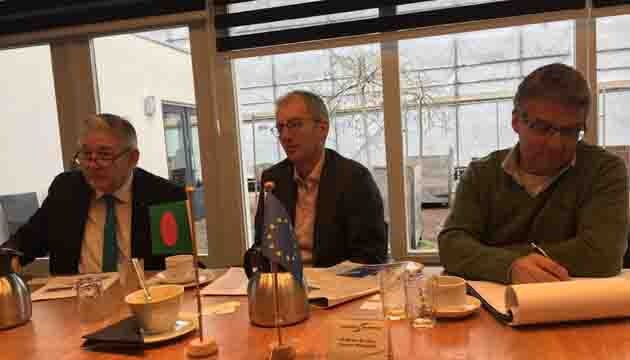 Ambassador Belal, along with Counselor of the Embassy, paid a visit to Hendrix Genetics on 04 February 2019 at the invitation of the company and discussed about potential area of cooperation. He appraised the HG President about Bangladesh's recent economic growth,geo-strategic location, and vast consumers with a vibrant middle class population that could be served as the key elements to consider Bangladesh as Hendrix's next investment destination.
At this time, Hendrix Genetics has a turnover of about 1.2 to 1.5 million Euro from Bangladeshi market and supplies about 250000 – 300000 parent stock chicks per year. It claimed to have more than 50% market share of the layer breeders in Bangladesh. HG is first company who has sold Hybrid Commercial Turkey to Bangladesh. In addition to that, HG has very recently started to sell HG Sasso colour chicken in Bangladesh as well.
Now, they are exploring a project to bring about a qualitative change in Bangladesh's shrimp industry using their cutting-edge research and innovations. Their ultimate goal is to provide Bangladesh with a high quality shrimp genetics in the form of pathogen-free, genetically-improved shrimp broodstock. Through an extensive breeding program, shrimp genetics are selected for fast growth, strong resistance to multiple pathogens, high nauplii production, and efficient feed utilization.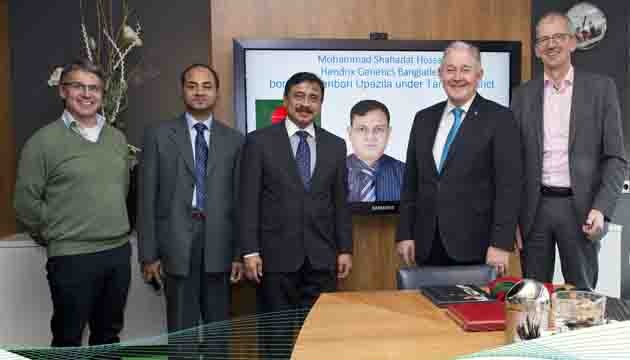 During the meeting, Ambassador Belal apprised the President of Hendrix Genetics about the upcoming visit of a high level business delegation from Bangladesh with focus on fishing and aquaculture from 26-28 February 2019. In cooperation with Dutch partners, Embassy will host a seminar on 27 February 2019 for the delegation and invited Hendrix and their partners to join the seminar which they happily accepted.
HG also considering a MoU on shrimp sector development with the Bangladesh Shrimp and Fish Foundation (BSFF) during the visit of the delegation.The Ambassador hoped that investment of Hendrix Genetics in Bangladesh would open up a new era for Bangladesh's shrimp, poultry and aquaculture sector and thus help in meeting the demand of protein of the people of Bangladesh.
After visiting the Hendrix Genetics, Mayor of the Boxmeer Mr. Karel Van Soest received Ambassador Belal in his municipality along with members of his cabinet. Ambassador Belal briefed the Mayor of Boxmeer and his cabinet about the ongoing development spree in the country and invited them to visit Bangladesh and see how investment from the Netherlands would allow them to have more social value in Bangladesh