New German Ambassador Peter Fahrenholtz calls on the Foreign Minister
New German Ambassador Peter Fahrenholtz, who presented his credentials to President Abdul Hamid on 19 September 2018, made his first courtesy call on Foreign Minister AH Mahmood Ali at his office this morning.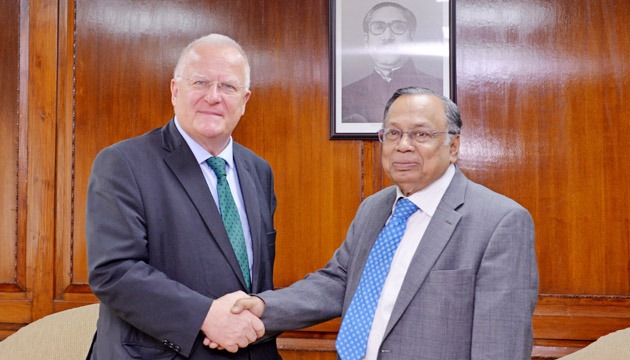 Ambassador Fahrenholtz highly acclaimedthe 'impressive development' and 'positive momentum' that Bangladesh achieved in the recent past. He praised Prime Minister Sheikh Hasina for her leadership and 'personal integrity' in realizing the "great vision to move Bangladesh forward" with ongoing large-scale infrastructure projects like Padma Bridge, 'new hub' of infrastructure projects in Payra and other mega-projects. Globally acclaimed German multinational Siemens'participation in this mega-project, with more than 1300 MW power generation, will act as a 'light house' for more German investment in Bangladesh, the Ambassador observed. He also thanked Foreign Minister Ali for his steadfast support for the e-passport project, which a German public/private company "Veridos GmbH" is currently implementing.
Welcoming the new Ambassador, Foreign Minister Ali expressed deep satisfaction at the ongoing excellent bilateral relations between Bangladesh and Germany. He also referred to Prime Minister Sheikh Hasina's visit to Munich Security Conference in February 2017 and her fruitful bilateral meeting with Chancellor Angela Merkel. He further appreciated Germany being the second largest export destination, globally, for Bangladeshi exports. He invited more German companies to do business in Bangladesh. He also referred to cultural ties between the two countries, including Tagore's personal relationships with German luminaries like Albert Einstein.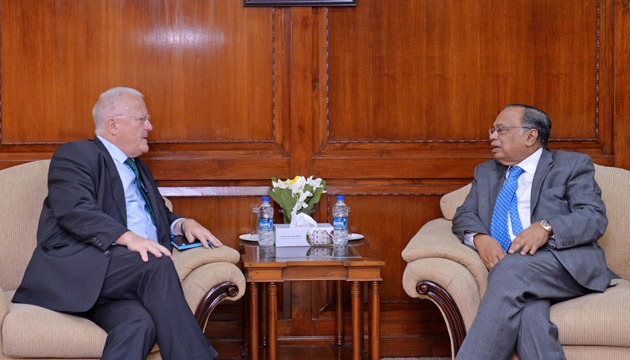 Foreign Minister briefed the Ambassador about Rohingya crisis, including recent developments that took place during the Joint Working Group meeting held in Dhaka on 30 October 2018. Bangladesh Foreign Minister thanked Germany for both political and humanitarian support since beginning of the crisis. The Ambassador conveyed that Germany is going to commit more resources as humanitarian assistance to Rohingyas. He further assured to extend continued political support, particularly within EU and the UN Security Council, where Germany will assume its non-permanent membership from January 2019.
The German Ambassador briefed Minister Mahmood Ali about 'dynamic phase of politics' in Germany and Europe at large. He welcomed the proposed dialogue between the ruling party Awami League and the united opposition front [and beyond], as an "important step forward". He further expressed high confidencethat "the elections will be very good and everybody will move forward."