Newly appointed CNS Vice Admiral Aurangzeb Chowdhury takes over the Command of Bangladesh Navy
The new appointed Chief of Naval Staff Vice Admiral Abu Mozaffar Mohiuddin Mohammad Aurangzeb Chowdhury, NBP, OSP, BCGM, BCGMS, ndc, psc took over the command of Bangladesh Navy today Saturday (26-01-2019). He succeeded the outgoing CNS Admiral Mohammad Nizamuddin Ahmed, NBP, OSP, BCGM, ndc, psc. The command handing/taking over ceremony was held at Naval Headquarters. All Area Commanders of the Navy and High Ranking Naval Officers were present. Vice Admiral Aurangzeb Chowdhury signed the Command taking over book at the office of the Chief of Naval Staff.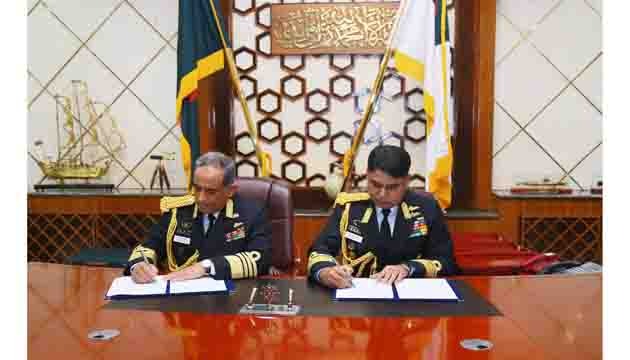 Picture -ISPR
 Vice Admiral Aurangzeb Chowdhury was born on September 28, 1959. He Joined in Bangladesh Navy in 1978. Vice Admiral Aurangzeb attended various courses at home & abroad. He has done cadet training & basic course in Germany, Surface Warfare Officer Course in USA, Instructional Technique Course at Chattogram Teacher's Training College, Gunnery Specialization Course in India, Missile Weapon System Course in China, Naval Staff Course in Germany, C++ Programming with Operating System at AUST in Dhaka, Training on Combat System in the Netherlands, Ship Building Technology Course in South Korea, BA & MDS (Masters in Defence Studies) from National University, MBA from Bangladesh Open University & M Phil from Bangladesh University of Professionals (BUP). Presently pursuing his PhD. under Bangladesh University of Professionals (BUP). Vice Admiral Aurangzeb Chowdhury has successfully completed NDC from National Defence College, Mirpur, Dhaka in 2010 and Capstone Course from the same institute in 2012. He is proficient in German and learned French Language also.
During his long naval career Vice Admiral Aurangzeb Chowdhury successfully served in various ships & establishments in various capacities including Assistant Chief of Naval Staff (Operations), Assistant Chief of Naval Staff (Personnel), Commander Chattogram Naval Area, Commodore Superintendent Dockyard, Naval Secretary & Directors at NHQ, Commanding Officer of Frigate & different Ships, Commandant of Marine Academy, Zonal Commander of Coast Guard East Zone & Principal of Marine Fisheries Academy, Chattogram etc.
Vice Admiral Aurangzeb Chowdhury is happily married with Dr. Afroza Aurangzeb, who is a Gynaecologist & blessed with one son & one daughter.