Newly appointed Japanese Ambassador to Bangladesh Iwama Kiminori calls on State Minister for Foreign Affairs.
Mr. Iwama Kiminori, newly appointed Ambassador of Japan to Bangladesh paid a courtesy call on State Minister for Foreign Affairs Md. Shahriar Alam, MP at the Ministry of Foreign Affairs this afternoon.
Welcoming the new Ambassador of Japan, State Minister said that Japan is Bangladesh's single largest bilateral development partner and an important country for trade and investment. During the meeting, the State Minister thanked the Government of Japan for providing technical and financial support for the implementation of the Metrorail project.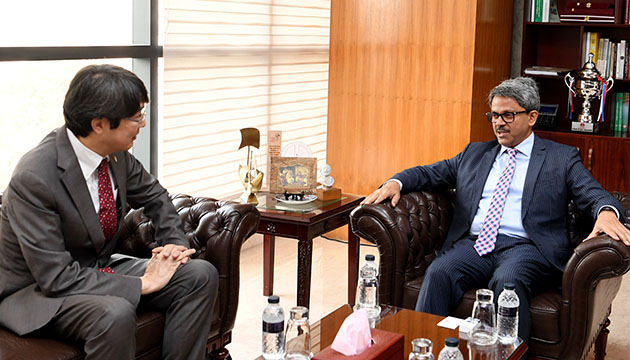 Highlighting Japan's cooperation in the socio-economic development of Bangladesh, the State Minister hoped that bilateral relations between the two countries would reach new heights during the tenure of the new Ambassador. Ambassador Iwama sought the cooperation of the State Minister for Foreign Affairs in fulfilling his duties.
During the meeting, both sides cordially exchanged views on various issues of mutual interest, including Japanese development assistance, human resources development, Rohingya repatriation, cooperation in different multilateral forums, etc.
The State Minister appreciated Japan's continued support for the repatriation of Rohingyas and expressed hope that Japan would continue to extend its support towards the early repatriation of the Rohingyas for the sake of peace and stability in the region.
State Minister Shahriar Alam wished Ambassador Iwama successful tenure in Bangladesh and assured him of full cooperation in discharging his duties.