North Korean leader said he was hoping to see "substantial progress" on denuclearization and other pending issues in his third summit with President Moon Jae-in.
North Korean leader Kim Jong-un said Tuesday he was hoping to see "substantial progress" on denuclearization and other pending issues in his third summit with President Moon Jae-in.
"We have to bear in mind that the warm hospitality for President Moon Jae-in represents the sincere hearts and minds of the people in North Korea, hoping for greater results from the summit," Kim said at the start of the first talks of the summit at the headquarters of the Workers' Party of Korea (WPK), where his main office is located.
"I hope my meeting with President Moon will bring results that we all want," Kim said, praising his continued and "tireless efforts" to try to revitalize nuclear disarmament talks between the North and the United States.
"It's no exaggeration to say that the historic summit between North Korea and the United States was the result of President Moon's efforts. Thanks to that, the political situation in the region has stabilized and I expect more results," Kim said, according to pool reports from Korean journalists in the North Korean capital.
The Moon-Kim summit comes at a critical time after Pyongyang made its surprise and dramatic turn toward rapprochement with Seoul and Washington earlier this year.
President Moon is under pressure as he's been tasked with getting a "concrete and detailed" pledge from Kim on denuclearization. The June 12 summit between Kim and President Donald Trump in Singapore didn't include specifics on when and how North Korea would dismantle its nuclear warheads. The talks have stalled and President Moon is actively trying to mediate this impasse.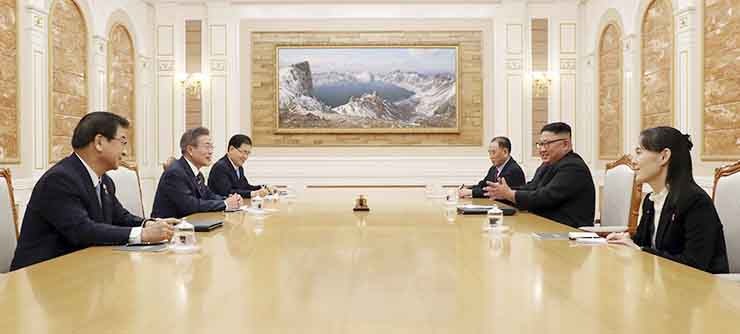 (North Korean leader Kim Jong-un, right center, talks with South Korean President Moon Jae-in, left center, during their summit at the headquarters of the Central Committee of the Workers' Party in Pyongyang, North Korea, Tuesday, Sept. 18, 2018. Joint Press Corps )
He thanked Kim for his decision to open up a "new era," adding he was impressed to see the developments in Pyongyang in terms of improved living standards for its residents.
"Now is the time to produce results. Because we have built mutual trust and a sincere friendship, I believe everything will be good," Moon said.
Their talks at the WPK headquarters lasted for 90 minutes starting at 3:30 p.m. The meeting ended at around 5:40 p.m., according to Cheong Wa Dae.
Seoul's spy chief Suh Hoon and National Security Office (NSO) head Chung Eui-yong attended, while from the North, Kim Yong-chol, a senior ruling party official and first lady Kim Yo-jong participated, according to presidential secretary Yoon Young-chan in a media briefing at a main press center set up in Dongdaemun, Seoul, Tuesday morning.
This is the first time a South Korean president has been allowed into the WPK building. President Moon is also the first head of state to hold a summit with Kim in Pyongyang since the latter took power.
Regarding whether Kim brought up sanctions relief as well as a formal end to the 1950-1953 Korean War, which ended in an armistice, presidential secretary Yoon said the first meeting was more like a "casual chat" touching on issues "broadly." The second round of talks has been set for early today.
Moon is the first South Korean leader in more than a decade to visit Pyongyang. He aims to persuade Kim to hold another summit with President Trump in order to break their deadlock in denuclearization talks.
Moon arrived at Sunan International Airport at 09:49 a.m., less than an hour following takeoff from a military air base in Seongnam. As widely expected, Kim emerged from the airport terminal to raucous cheering and slowly walked with his wife to greet the President.
The two leaders embraced, exchanged light talk and flashed wide smiles. Moon then shook hands with top North Korean officials before reviewing a North Korean honor guard for 15 minutes accompanied by military music.
Later, the two leaders arrived at the Paekhwawon State Guest House after a "rare open-roof car parade" through the main streets of Pyongyang. Recorded pool footage showed the two leaders in a black convertible limousine smiling and waving to chanting residents, almost all of them dressed in traditional Korean clothing.
Expect for a convoy of sedans and motorcycles, no other vehicles were seen along the neat and clean designated route.
Following the first talks, Moon was treated to a banquet and watched cultural performances featuring K-pop stars Ailee and Zico, and the North's Samjiyon Orchestra at a theater in Pyongyang. During the first inter-Korean summit, South Korean girl group Red Velvet and veteran singer Cho Yong-pil were among those who performed in the North's capital.