On 1st July Prime Minister, Sheikh Hasina is going to China for a five-day official visit.
Prime Minister Sheikh Hasina will give much focus on the Rohingya crisis alongside economic engagement and investment issues during her five-day official visit to China.Briefing reporters about the visit, Foreign Minister AK Abdul Momen on Friday said Sheikh Hasina will attend the annual meeting of World Economic Forum (WEF) in Dalian.
She will hold bilateral meetings with top Chinese leaders, including her counterpart Li Keqiang and President Xi Jinping.A special flight of Biman Bangladesh Airlines carrying Hasina and her entourage will reach China's Dalian on July 1. The next day, she will address WEF Summer Davos at Dalian International Conference Center.
On July 3, the Prime Minister will leave Dalian for Beijing at 11am by a special chartered flight and join a community reception the same day.The following day, she will join the welcoming ceremony and place wreaths at the Heroes Memorial at the Great Hall of the People in the morning.
Later, Sheikh Hasina will hold bilateral talks with Chinese PM Li Keqiang and attend the agreement signing ceremony at the Great Hall of the People.Foreign Minister Momen said that at the meeting they will discuss various bilateral, regional and global issues.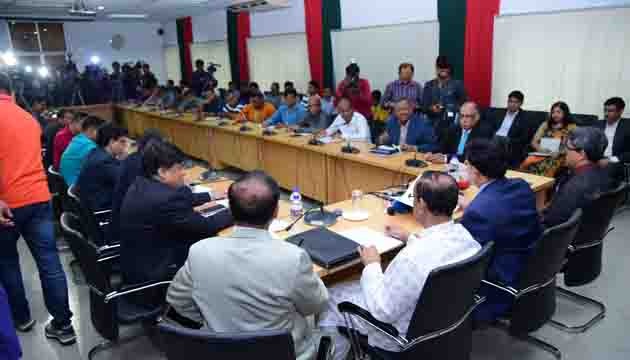 The Prime Minister will also talk about the Rohingya issue with her Chinese counterpart.After the meeting, several bilateral agreements and memoranda of understanding will be signed between China and Bangladesh.
The agreements are – Framework Agreement of Expansion and Strengthening of Power System Network under DPDC Area, Government Concessional Loan Agreement of 'Expansion and Strengthening of Power System Network under DPDC Area Project', Preferential Buyer's Credit Loan Agreement of 'Expansion and Strengthening of Power System Network under DPDC Area Project', Framework Agreement of 'Power Grid Network Strengthening Project under PGCB' project, Agreement on Economic and Technical Cooperation between the Government of the People's Republic of Bangladesh and the Government of the People's Republic of China, Memorandum of Understanding on the Establishment of Investment Cooperation Working Group, MoU and Implementation Plan on hydrological information sharing of Yalu Zhangbo/Brahmaputra River, and Mou on Cultural Exchange and Tourism Programme.
Prime Minister Hasina will also join a banquet to be hosted by the Chinese Prime Minister at the Great Hall of the People. She will attend a business roundtable with Chinese business leaders the same day.
On July 5, she will have a meeting with Chairman of NPC Li Zhangshu.
Later, Sheikh Hasina will hold a meeting with Chinese President Xi Jinping at Diaoyutai State Guest House in the afternoon and discuss various bilateral and regional issues, including the Rohingya problem.
She will also join a banquet to be hosted by the Chinese president at the same place.
Replying to a question, Foreign Minister Momen said the Rohingya issue will get much importance during the Prime Minister's meetings with Chinese leaders.
He said Bangladesh does not believe that China is backing Myanmar over the Rohingya Issue. "China has a stance that they are helping us and supporting us to resolve the problem," he said. "They've repeatedly told us that they want Rohingyas to go back to their country."
He said China wants the problem to be solved through bilateral discussion, and added that Beijing repeatedly assured it will help Bangladesh repatriate Rohingyas to Myanmar.
During China visit, he said they will tell the country's leaders that Rohingyas are the citizens of Myanmar, comprising different persecuted ethnic groups, not only Muslims, and Bangladesh gave them shelter for a short period.
He said they will also voice concern that an uncertainty can be created in the region if such a larger number of Rohingyas stay in Bangladesh for a long time. This may also harm the development of the entire region.
"China has made huge investments in both our country and Myanmar, and their expectation from the investment may get hampered if the Rohingya problem is not solved. Besides, pockets of radicalism may be created if the problem lingers. So, we'll make strong demand of taking back Rohingyas by Myanmar," the minister said.
He said there is change in mindset of different countries that were not strongly with Bangladesh earlier over the Rohingya issue.Minister Momen said China honours Bangladesh as Prime Minister Sheikh Hasina has a very good relation with its President.
"So, we hope China will take pro-active action in ensuring the return of Rohingyas if our Prime Minister raises the issue during the visit. We believe it will be possible to do so," he said.State Minister for Foreign Affairs M Shahriar Alam and Foreign Secretary M Shahidul Haque were also present.