Outgoing British High Commissioner to Bangladesh pays a farewell call on Foreign Minister,
Outgoing British High Commissioner to Bangladesh Mr. Robert Chatterton Dickson paid a farewell call on Foreign Minister Dr. A. K. Abdul Momen,  on Monday at the latter's office.
Foreign Minister congratulated the outgoing British High Commissioner on his successful tenure in Bangladesh and appreciated the High Commissioner's contribution to further strengthening Bangladesh-UK bilateral relations. He particularly lauded the High Commissioner for fostering trade and investment relations and cooperation in climate change between the two friendly countries. The High Commissioner appreciated the cooperation he received from the government in discharging his mandates in Bangladesh.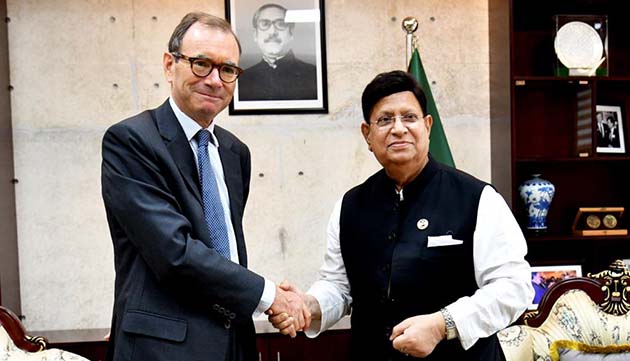 The British High Commissioner expressed satisfaction at the Hon'ble Prime Minister's decision to attend the royal coronation of their Majesties The King Charles III and The Queen Camilla of the United Kingdom on 6 May 2023 in London. Lauding His Majesty The King's interest in the Commonwealth and climate change, Foreign Minister expected a royal visit from the UK to Bangladesh and the British High Commissioner hoped that a royal visit would take place in the future.
Lauding the UK's role in multilateral fora, particularly at the UN Security Council on Rohingya crisis, Foreign Minister commended UK's humanitarian support to the forcibly displaced Rohingyas, temporarily sheltered in Bangladesh. He expressed concerns over the deteriorating focus on the Rohingyas, particularly humanitarian assistance, and urged the international community to play more decisive role in ensuring their safe, voluntary, sustainable repatriation to their homeland in Myanmar at an early date.
Foreign Minister reiterated that the government wants free, fair and credible general elections. He briefed the High Commissioner of the steps taken to enable the Election Commission to conduct free and fair elections. The Foreign Minister, however, underscored the necessity of commitments of all political parties for a free, fair, credible and violence-free general elections. He welcomed independent international observers, including from the EU and other countries during the elections.
The two sides also discussed various other bilateral and international issues of mutual interest and concerns, including bilateral cooperation in aviation and defence sectors, roles of British-Bangladeshi diaspora in mainstream British politics, situations in Sudan, Afghanistan, and war in Ukraine, etc.