Port Visit by JS URAGA and JS AWAJI of the Japan Maritime Self-Defense Force to Chattogram.
Two vessels, JS URAGA (Mine Sweeper Tender) and JS AWAJI (Mine Sweeper Ocean) of the Japan Maritime Self-Defense Force (JMSDF) arrived atChattogram Port on 9 April 2023for a goodwill port visit. They will stay in Chattogram till 11 April 2023.
Receiving Ceremony was held on the same day at the port jetty. Captain NAKAI Eiichi, Commander, Minesweeper Division One, and his officers were received by Captain Mohammed Faizul Hoque, (C), psc, Chief Staff Officer to Commander, Chattogram Naval Area (COMCHIT) and greeted by H.E. Mr. IWAMA Kiminori, Ambassador of Japan to Bangladesh.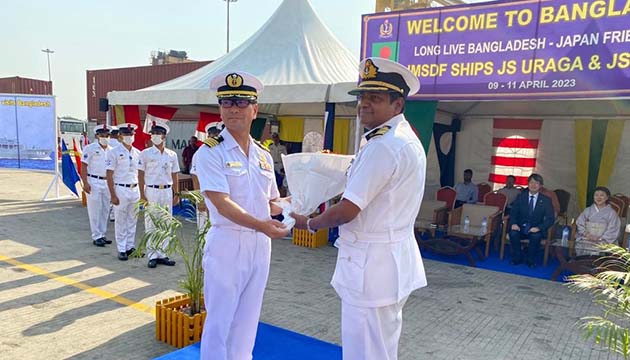 During this port visit, the Bangladesh Navy will organize exchange programs such as visits on board. Captain NAKAIwill make courtesy calls onRear Admiral Abdullah Al Mamun Chowdhury, BSP, ndc, psc, COMCHIT, Rear Admiral S M Moniruzzaman, OSP, ndc, ncc, psc, Commander, Bangladesh Navy Fleet (COMBAN) and Mr. Md. Rezaul Karim Chowdhury, Honorable Mayor, Chattogram City Corporation during their stay in Chittagong. Moreover, JS URAGA and JS AWAJI will conduct a goodwill exercise with the Bangladesh Navy in the surrounding sea on the 11th.
JS URAGA and JS AWAJI departed from Japan on 19 January 2023 for IMED23 (Indo-Pacific and Middle East Deployment23). During the dispatch, they make port calls in Bahrain, Bangladesh, Brunei, Cambodia, India, Maldives, Philippines, Singapore, and Vietnam, returning to Japan on 23 May 2023.
The JMSD has made port visits to Chattogramthree times before, in 2012, in 2019, and 2022. This fourth visit marks the start of the new voyage toward the next 50 years of bilateral relations between Japan and Bangladesh, which celebrated the 50th anniversary of the establishment of the diplomatic relations between the two countries last year. It is expected that this port visit will not only strengthen the bilateral relations between Japan and Bangladesh but also contribute to realizing a "Free and Open Indo-Pacific (FOIP)", which is a vision to secure peace, stability, and prosperity in the region.