SEACO initiative of Bangladesh gets support from Malaysia
State Minister for Foreign Affairs Md. ShahriarAlam, MP is leading a four members delegation to Kuala Lumpur to garner Malaysian support in an initiative called  South and South  East Asian Cooperation (SEACO). It is a private sector and track-II level Forum of five OIC countries in the region- Bangladesh, Brunei, Indonesia, Malaysia and Maldives with an objective of advancing regional economic integration. The Forum in the emergence is going to function in the model of World Islamic Economic Forum (WIEF) exclusively with the  agenda of economic cooperation among the members countries and their neighborhoods. Bangladesh has taken the initiative and ready to host SEACO's launching conference in Dhaka towards the end of June 2019 with expected participation of the Foreign Ministers along with the  public and private stakeholders.
State Minister ShahriarAlam had a fruitful meeting with the Foreign Minister of Malaysia DatoSaifuddin Abdullah and WIEF Chairman and former Deputy Prime Minister of Malaysia, Musa Hitam  today and got their spontaneous support for the initiative. Mentionable that two other members of State Minister's delegation are currently in the  entourage of the Prime Minister Sheikh Hasina to Brunei for the same purpose.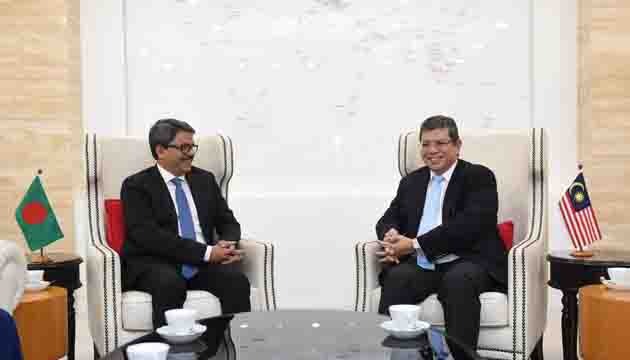 The State Minister in his meeting with the Malaysian Foreign Minister reviewed the entire gamut of bilateral relations and discussed intar alia, export of manpower from Bangladesh and their well being, bilateral trade and investment. Malaysian Foreign Minister said that Bangladesh would remain an important source of workers for Malaysia and the Malaysian government was smoothening the recruitment and work of these workers. The  Rohingya issue also figured prominently in the discussion where they agreed enhanced  role of the ASEAN in the repatriation of the forcibly displaced Rohingyas sheltered in Bangladesh.
The delegation is going to meet Malaysian business community and trade and investment authorities/ chambers tomorrow. The Minister's delegation included Bangladesh High Commissioner to Malaysia Md. Shaidul Islam, DG( International Organizations) of the Foreign Ministry, AFM GousalAzam Sarkar, and Executive Chairman of SESCO Foundation Bangladesh Salauddin K Khan and other officials of the Ministry and Bangladesh High Commission.