Secretary General of the OIC Calls for Prioritizing Trade and Investment Projects to Bridge Development Gap in the Member States
The Secretary General of the Organization of Islamic Cooperation (OIC), Dr. Yousef bin Ahmed Al-Othaimeen, called for the restructuring of the economies of many OIC Member States, which face challenges due to the negative effects of the economic slowdown. He stressed the importance of further focus on economic diversification and achieving comprehensive development.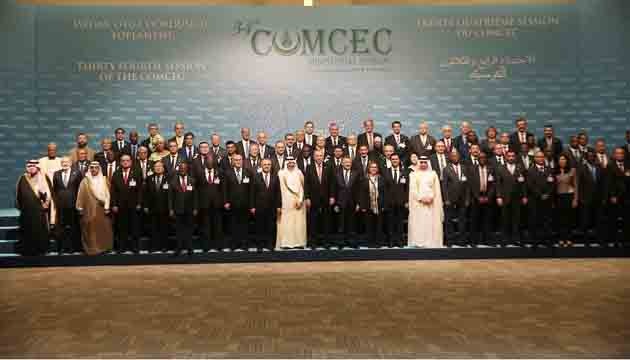 The Secretary General emphasized this in his speech to the Ministerial Session of the 34th Session of the Standing Committee for Economic and Commercial Cooperation of the Organization of Islamic Cooperation (COMCEC) inaugurated by H.E. Recep Tayyip Erdogan, President of the Republic of Turkey and Chair of the COMCEC, in Istanbul on 28 November 2018.
Al-Othaimeen stressed that prioritizing trade and investment projects would contribute significantly to bridging the current development gap with a view to reducing the increasing unemployment among the young and the vulnerable segments of societies in the OIC countries. This would also help alleviate the current crises resulting from the increasing youth migration outside the OIC region. In this regard, the Secretary General valued the effective response of many OIC Member States to the economic and humanitarian problems faced by some other Member States because of the political and natural crises.
The OIC Secretary General affirmed that devising an OIC policy for infrastructure development and regional integration receives the profound attention of Member States in light of strengthening regional cooperation frameworks to address the current shortcomings in human and physical infrastructure.
In this context, Al-Othaimeen indicated that the two major regional programs, namely the Special Program for the Development of Africa (SPDA) and the Special Program for Central Asia (SPCA), had resulted in large-scale projects in the sectors of trade, transport, energy, and agriculture. Other activities in this regard include the Arab-African Trade Bridge, the Trans-Saharan Highway, the Kazakhstan-Turkmenistan-Iran Railway, and the Dakar-Port Sudan Railway.
The opening of the 34th session of COMCEC also included speeches by Dr. Bandar Hajjar, the IsDB Group President, the representatives of the three Arab, Asian, and African geographical groups, as well as Mr. Rifat Hisarcıklıoğlu, the Vice President of the Islamic Chamber of Commerce, Industry and Agriculture (ICCIA).