Seminar "Digital Bangladesh: Opportunities and Challenges for Viet Nam and Bangladesh"
The Embassy of Viet Nam in Bangladesh in association with Better Bangladesh Foundation (BBF) organized a Seminar themed "Digital Bangladesh: Opportunities and challenges for Viet Nam and Bangladesh" at the Westin hotel, Dhaka on Wednesday, 24 July 2019. H.E. Mr. Zunaid Ahmed Palak, MP, Hon'bleMinister of State for Information and Communication Technology (ICT) attended the Seminar as the Chief Guest. H.E. Mr. Md. Faruque Hossain, Executive Chairman, Secretary-in-charge, National Skills Development Authority, Prime Minister's Office and H.E. Mr. Tran Van Khoa, Ambassador of Viet Nam to Bangladesh attended as the Special Guests. High-level delegates from Viet Nam's top ICT company, FPT attended and delivered keynote speeches at the Seminar.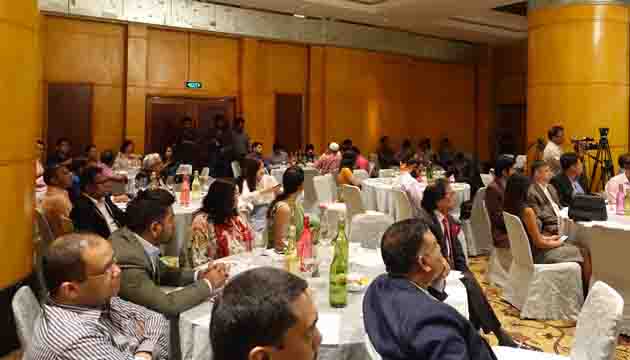 It is the first time that a B2B Seminar on ICT between Viet Nam and Bangladesh hosted by the Embassy of Viet Nam in Bangladesh has been organised. The Seminar aims to create a platform for ICT businessmen of the two countries to meet, discuss and establish their relationships. Therefore, it contributes to further promoting cooperation between the two countries in the untapped potential sector. The two key topics of the Seminar includes current cooperation between Viet Nam and Bangladesh in mega ICT Projects, and how to build up Bangladeshi ICT skilled manpower for Industry 4.0 quickly.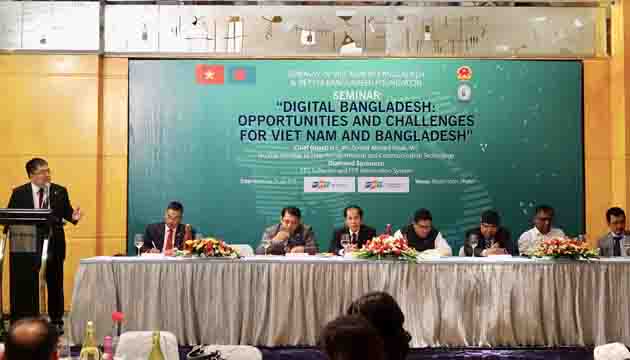 Speaking at the Seminar, H.E. Ambassador of Viet Nam, Tran Van Khoa, highlighted and praised FPT's efforts in implementing four mega ICT projects in Bangladesh, which are very important to Bangladeshi Government in realising its objective in the Digital Bangladesh Vision by 2021. He also strongly urged Viet Nam's ICT companies, including FPT to consider about the possibility of long-term investment in Bangladesh to utilise local IT skilled workforce, as well as to provide more scholarships in ICT sector for Bangladeshi students.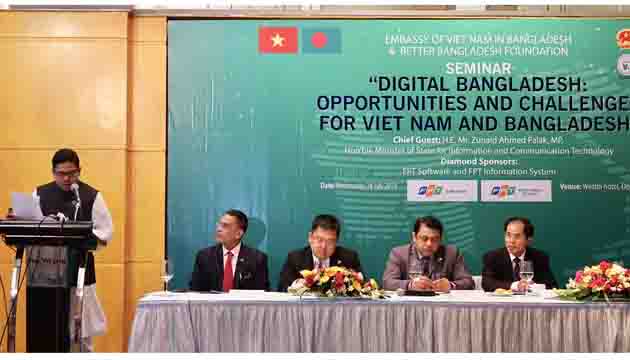 In response, Hon'bleMinister of State for ICT, H.E. Mr. Zunaid Ahmed Palak said, the Government of Bangladesh greatly values the relationship between the two countries as we face similar challenges. He emphasizes that, Bangladesh's Government will provide all kinds of cooperation for Vietnamese businessmen who would like to invest in Bangladesh, especially in ICT sector. To conclude, Chairman of BBF, Professor Masud A.Khan thanked all participants and the Embassy of Viet Nam for great cooperation.
The ICT industry of Viet Nam is becoming a fast-growing, sustainable economic sector with high turnover and high export value, significantly contributing to the nation's GDP. In 2016, the growth rate of the Viet Nam's ICT industry increased by 9.1%, 3% higher than the country's GDP growth. Viet Nam's ICT market is expected to continue its growth between 2018 and 2020, due to the Government's desire to turn Viet Nam into an ICT power and a software hub of the world.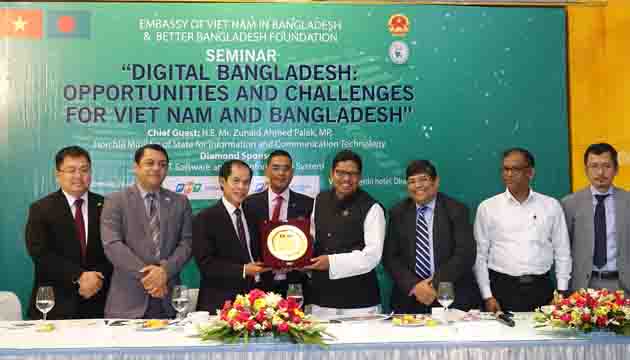 FPT, which is one of the pioneer and biggest IT companies in Viet Nam, is proud to be one of the first Vietnamese IT companies in Bangladesh. Since 2014, FPT has brought valuable experiences and capabilities to Bangladesh through implementing four national important IT projects, namely the Integrated Tax Administration System (BITAX), the Integrated VAT Administration System (IVAS) and two ERP projects, which are "Design, Supply, Installation and Development Project of the Enterprise Resource Planning/Enterprise Asset Management (ERP/EAM) software" for Electricity Generation Company of Bangladesh Limited (EGCB) and Bangladesh Gas Transmission Company Limited (GTCL).