Spanish rescue boats rescued almost 800 refugees off the southern coast
Spanish rescue boats have saved more than 700 refugees trying to cross the Mediterranean from Africa to Europe.
Three boats belonging to the Spanish coastguard saved 769 people in total on Saturday.
The majority was found between the North African coast and the island of Mallorca, while others were saved on their way to the Canary Islands, west of Africa.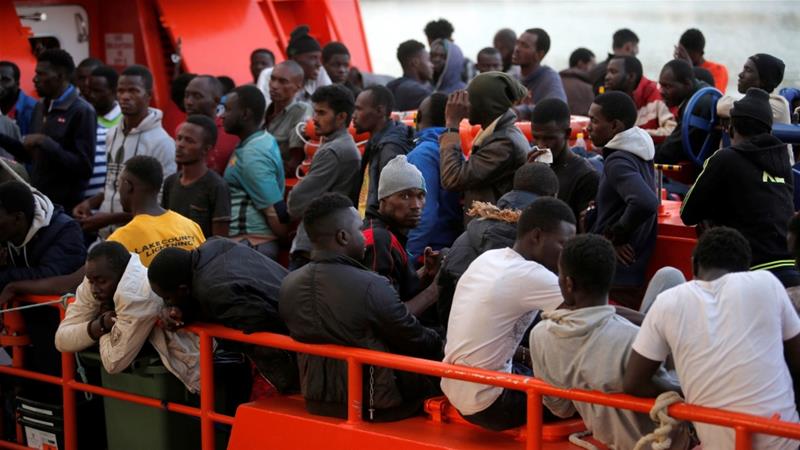 According to the International Organisation for Migration (IOM), Spain has become increasingly popular for refugees to enter Europe over the last couple of months.
In 2017, the organisation registered 3,326 people from entering Spain between January and April. This year, that amount has risen to 4,627, the highest number yet.
This month, many hundreds more have tried to reach Spain, with more than 2,000 arriving last week alone.
The increase comes as Italy's new populist government has made attempts to clamp down on refugees entering the country.
Last week, the country barred the French NGO-run Aquarius ship with more than 600 rescued people on board from docking in Italy, triggering a dispute across the European Union (EU).
Interior Minister Matteo Salvini, also the head of the far-right League party, is making good on an election promise to go after rescue ships run by aid groups, which he has likened to taxi services that help people-smugglers.
On Friday, Italy doubled down on its tough stance against migrants, insisting it could not take "one more" refugee and warning the migration crisis could put the EU's survival at stake.
Italy's new stance has led to renewed political tension within the EU.
On Sunday, European leaders will gather in Brussels to discuss the need for changes to its migration policies.
Although the number of refugees arriving in Europe has gone down significantly this year compared to previous, the issue has resulted in a political crisis.
Central and Eastern European countries especially have opposed the European policies of resettling refugees across the continent.
The issue has led to a political crisis in Germany, where Chancellor Angela Merkel has received criticism from her own party for Germany's open stance in the refugee issue.