The 22nd BIMSTEC Day -2019 is celebrated at the BIMSTEC Secretariat.
The 22nd BIMSTEC Day -2019 has been celebrated at the BIMSTEC Secretariat. On the occasion of the celebration of this Day, Foreign Minister Dr. A.K. Abdul Momen said , BIMSTEC represents a unique connectivity between South and South-East Asia; a region characterized by shared histories, values and ways of life. It provides a strong platform for common aspiration for peace and development of this region.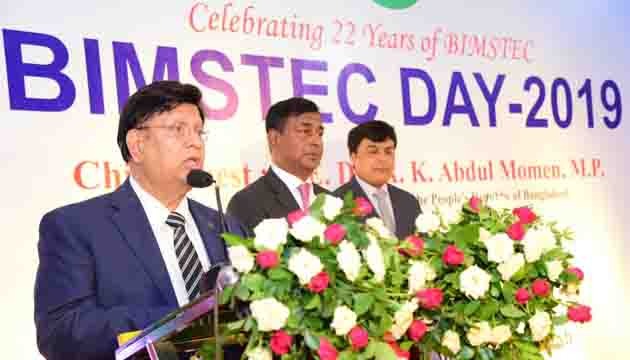 Bangladesh is always committed to regional cooperation. In fact, it was our Father of the Nation Bangabandhu Sheikh Mujibur Rahman, who always dreamt of working together with the neighbours. Under the leadership of his able daughter Prime Minister Sheikh Hasina, Bangladesh continues to pursue regional cooperation as an engine for sustainable growth and economic integration.
Bangladesh has been deeply committed to BIMSTEC process since its inception. Pursuing BIMSTEC integration for rapid economic and social progress for the people of this region is one of the top priorities of our Foreign Policy. Hosting BIMSTEC Secretariat in Dhaka is a manifestation of her commitment to BIMSTEC.
He added that, When BIMSTEC was established 22 years ago, there were high hopes and ambitions and BIMSTEC was considered as a bridge between South and South-East Asian countries, a useful mechanism to promote increased cooperation, trade and investment, within the Member States of this region. The 4th BIMSTEC Summit held last year was a turning point in this regard. Through adoption of a declaration during that summit the leaders of the BIMSTEC countries reaffirmed their commitment to Work together "Towards a Peaceful, Prosperous and Sustainable Bay of Bengal Region." The leaders called for intensifying actions in all 14 areas of cooperation and to see what had worked well and what did not. They asked for review, restructure and rationalizing all sectors and sub-sectors of BIMSTEC cooperation. Bangladesh Prime Minister Sheikh Hasina proposed for restructure the existing 14 areas of cooperation under three main priority clusters namely 'Sustainable Development, 'Security and Stability' and 'People to People Contact'. This will bring synergy, focus and speed in the BIMSTEC process. In line with the commitments made by our leaders, we should focus more on the areas of trade and investment, connectivity, energy and security, agriculture, tourism, climate change and disaster management and people-to-people contacts to garner visible outcome. A sustainable and peaceful Bay of Bengal region could be ensured only when all these areas will produce results.
Foreign Minister said ,Despite the fact that BIMSTEC accounts for US$4 trillion of global economy and intra-regional trade among its members has increased to USD 83.9 billion in 2017 up from USD 72 billion in 2016, the trade figure within the region is still low, only around 5% compared to other regional organizations, let's say, Mercusor or EU it is very low. May be FTA within the region may help improve the situation. Till today, we do not have free mobility of recourses, I mean, capital, technology and man power. However, good news is; we have lot of resources nearly 1.7 billion people which 21% of the global population. They are energetic, young and have motivation and I believe, the engine of growth are creativity, innovation, competition, connectivity, networking and motivation. We have to work harder to create conducive environment in the region for a better world.
On this 22nd Anniversary, let us reaffirm our firm conviction to intensify our efforts in realizing the objective and purposes of BIMSTEC through working collectively for the betterment of the people of the region. I strongly believe that the strong political determination and innovative initiatives of the member states will make the organization more effective in the coming days.