The 6th International flight safety seminar concludes in Dhaka
A three-day-long International Flight Safety Seminar jointly organized by Bangladesh Air Force and Civil Aviation Authority of Bangladesh concluded at Hotel Pan Pacific Sonargaon, Dhaka today, Wednesday (23-10-2019).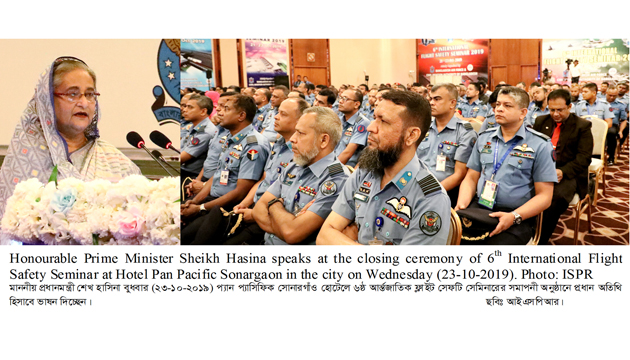 Honourable Prime Minister of the Government of the People's Republic of Bangladesh attended the closing session as Chief Guest and awarded certificates among the participants. Speaking on the closing session she extended her appreciations to all related organizations for creating the opportunity for sharing experience within civil and military professionals.
Mentioning about the geo-political and strategic importance of Bangladesh she said that it was the dream of Father of the Nation Bangabandhu Sheikh Mujibur Rahman to have a modern, strong and professional air force. She mentioned that it was his vision and dynamic decision to induct modern fighter aircraft like MiG-21, transport aircraft, helicopter and air defence radar in 1973 which materialized the dream of a modern and strong air force. She then mentioned about her government's steps taken to make aviation sector safer. She iterated importance of safe flying operation and urged all to acquire through practice and proper materialization.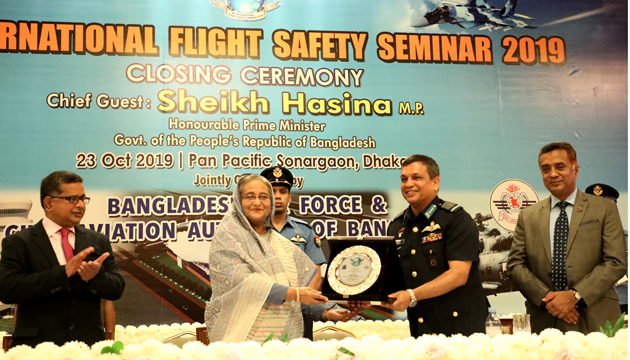 At the end she expected that the brainstorming on safety matters by aviators from home and abroad along with the local aviation organizations have certainly added to our knowledge and efforts in promoting flight safety.
On her arrival at the venue Honourable Prime Minister Sheikh Hasina was received by Chief of Air Staff Air Chief Marshal Masihuzzaman Serniabat.
The aim of the seminar was to bridge the perspective on flight safety challenges of both civil and military communities since the airspace is used jointly. The theme of the seminar was "Team effort can ensure team safety".
Besides, Bangladesh Air Force and CAAB, military and civil representatives from different countries took part in the seminar. The other participating countries were USA, Italy, China, Malaysia, India, Sri Lanka, Maldives, Philippines, Saudi Arabia, Egypt, Oman, Morocco, Nigeria and Zimbabwe.
This year for the first time two regional members of International Civil Aviation Organization (ICAO) participated in the seminar. Representatives from Ministry of Defence, Bangladesh Army, Bangladesh Navy, Armed Forces Division (AFD), Bangladesh Police, Border Guard Bangladesh (BGB), Biman Bangladesh Airlines Ltd, Bangladesh Flying Academy, Padma Oil Company, Bangladesh Atomic Energy Commission, MIST and other civil airlines of Bangladesh participated in the seminar.
Among others, State Minister for Civil Aviation and Turism Md. Mahbub Ali, Chief of Army Staff General Aziz Ahmed and Chief of Naval Staff Admiral AMMM Aurangzeb Chowdhury were present on the occasion.