The Embassy of Bangladesh, Tokyo celebrated the Independence and the National Day of Bangladesh.
The great Independence Day and the National Day of Bangladesh was observed in Tokyo, Japan by the Embassy of Bangladesh in a befitting manner on Tuesday (26-03-2019).
The first part of the program of the 48th Independence Day of Bangladesh was started in the morning with hoisting the National Flag while playing the National Anthem at the embassy premises. The Flag was raised by the Ambassador of Bangladesh to Japan, H.E. Rabab Fatima followed by the observance of one-minute silence and offering a special prayer for the departed souls of the Martyrs of the Great Liberation War. Marking the day special supplements into the Japanese newspapers were published today.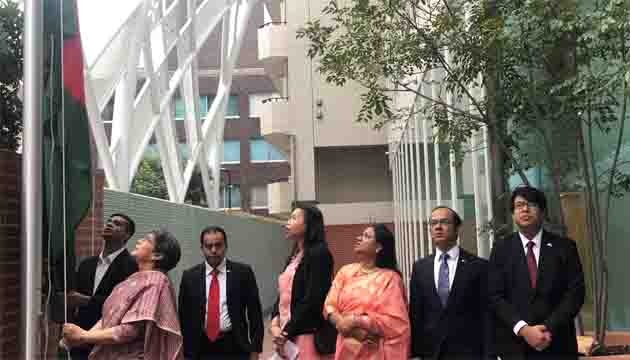 Later in a Hotel of Tokyo, the National Day reception was held where Japanese ministers, diet members, Ambassadors, leading business leaders, think tanks, civil society representatives and many expatriate Bangladesh community members joined. Ms. Toshiko Abe, State Minister for Foreign Affairs graced the occasion as chief guest and Mr. Ichiro Tsukada, State Minister for MLIT read out the message of Mr. Taro Aso, Deputy Prime Minister and Finance Minister of Japan, who is also the President of Japan-Bangladesh Parliamentary Friendship League. Among others, Mr. Yoshitaka Sakurada, Minister for the Tokyo Olympic and Paralympic Games, Mr. Minoru Kiuchi, State Minister of the Environment, Mr. Yasutoshi Nishimura, Deputy Chief Cabinet Secretary were also present.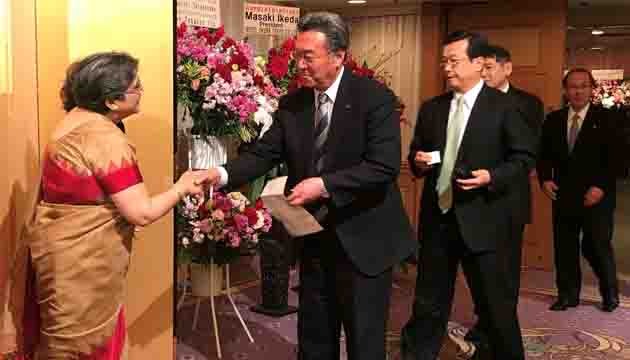 The reception started with playing the National Anthem through violin of both the country followed by the cutting of cake to mark the day. H.E. the Ambassador in her welcome speech paid deep homage to Father of the Nation Bangabandhu Sheikh Mujibur Rahman and the martyrs of our war of independence and the valiant freedom fighters. The Ambassador also touched upon various socio-economic achievements along with the potentialities that Japanese business houses can enjoy.