The European Union expect a free, fair, credible and transparent elections in Bangladesh
The European Union  said they expect a free, fair, credible and transparent elections in Bangladesh as the nation goes to national election by the end of this year.
"We are looking forward to free, fair, credible and transparent elections in this country," said Managing Director for Asia and the Pacific at European External Action Service Gunnar Wiegand adding that they discussed preparations on this.
He made the remark while talking to reporters at state guesthouse Padma after the third diplomatic consultations between Bangladesh and the EU on Thursday .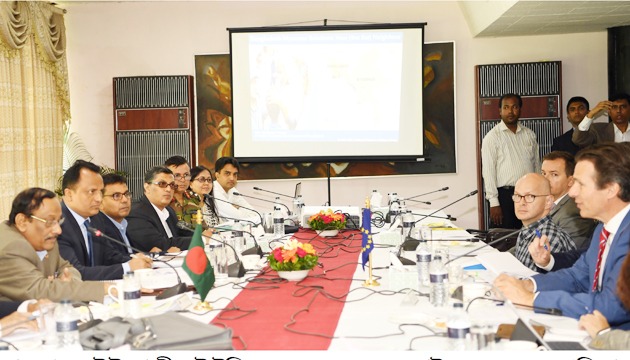 Responding to a question on Rohingya issue, the EU diplomat said they will continue to support Rohingyas to ease burden on Bangladesh and expect that other countries will also come forward. "We would like to see more countries to contribute…"
He said it is an effort which is huge for Bangladesh and Bangladesh needs to be supported, of course, by its friends around the world.
The diplomat said what the EU demonstrated so far is a good sign of their commitment to humanitarian needs.
The EU emergency aid brings the total funding for Rohingya refugees in Bangladesh to more than €86 million since 2007.
In the meeting, both sides discussed a wide range of issues of common interest including political developments on both sides.
Trade and investment, matters of regional and global interest where the EU and Bangladesh can intensify collaboration were also discussed in the meeting that held at State Guesthouse Meghna.
Issues relating to migration, peace and security and Agenda 2030 were also discussed.
Foreign Secretary M Shahidul Haque and his EU counterpart Gunnar Wiegand led Bangladesh and EU sides respectively in the meeting.
Wiegand said the EU stands in solidarity with Bangladesh in helping Rohingyas living in Bangladesh which is an enormous burden for the host country.
"But more needs to be done," Wiegand said adding that they want to see the first batch of returnees after required conditions are created for safe, voluntary and dignified return of Rohingyas to their homeland.
Pressure on Myanmar Sought
Bangladesh and EU agreed that "sustained international pressure" upon the Myanmar authorities is needed to resolve the crisis.
The EU appreciated the fact that despite severe space and resource constraints Bangladesh is bearing a significant burden by hosting more than a million persecuted Rohingya from Myanmar.
It commended Prime Minister Sheikh Hasina on her humanitarian response towards the Rohingya.
The EU noted the "Arrangement" with Myanmar on 23 November 2017 and subsequent bilateral arrangements made with Myanmar for return of the forcibly displaced Rohingya are important first steps and stressed the need for voluntary, safe, dignified and sustainable return, with international oversight.
Bangladesh expressed deep appreciation for the EU's strong international support, including at the UN and other international/UN fora and significant humanitarian assistance in that context.
They agreed to continue to work closely with the international community, particularly at the UN and other international fora, with a view to create conducive environment in the northern Rakhine State so that the Rohingya can return in safety and security to their ancestral homes in Myanmar.
No to Irregular Migrants
On migration issues, the EU diplomat said they have had a problem with irregular migrants from Bangladesh to Europe. "We welcome regular migration but we do not welcome irregular migration."
He said they are in discussion to ensure return of irregular migrants with "full transparency and amicable way."
Earlier, the government signed standard operating procedures (SOPs) with the European Union on return of genuine Bangladesh migrants with no right to stay in the EU member countries.
The EU member countries, according to the SOPs, would be able to repatriate irregular Bangladesh nationals only after exhausting all administrative and judicial procedures of respective sending countries and subject to verification of their nationality.
The EU and Bangladesh expressed satisfaction at the current state of implementation of the SOPs regarding the return of irregular migrants with no right to stay in the EU, including consecutive Joint Working Group Meetings, respectively, held in Brussels (December 2017) and Dhaka (April 2018).
Bangladesh appreciated the EU for supporting projects on awareness raising campaign against irregular migration and reintegration of returnees upon return.
Foreign Secretary Haq said they had very fruitful and interactive discussions and they looked at all aspects of relationship – political, social and developmental issues with special focus on Rohingya issue.
"We have also discussed SDGs (sustainable development goals) implementation and migration issue," he said.
EU Ambassador in Dhaka Rensje Teerink and senior foreign ministry officials, among others, were present.