The first ever " Bangladesh Development Fair-2018" held in Korea
The Embassy of Bangladesh in Seoul, in association with Ansan City Government has organized the first ever "Bangladesh Development Fair" on 19 September 2018 in the Gyeonggi Techno Park of Ansan City of Korea.  A good number of Korean business community members along with Bangladeshi EPS workers, students and Bangladeshi businessmen residing in Korea were present at the event.
Vice Mayor of Ansan City Government Mr. Jin-Soo Leewas the Guest of Honour at the event. The Fair started with a parade, which was like "Mongol ShobhaJatra"and was decorated with colorful dresses, masks, national flag and green-red hats which drew huge attraction among the guests. All the attendees including the Vice Mayor spontaneously participated in the procession. The main program started with playing of the national anthems of Bangladesh and the Republic of Korea.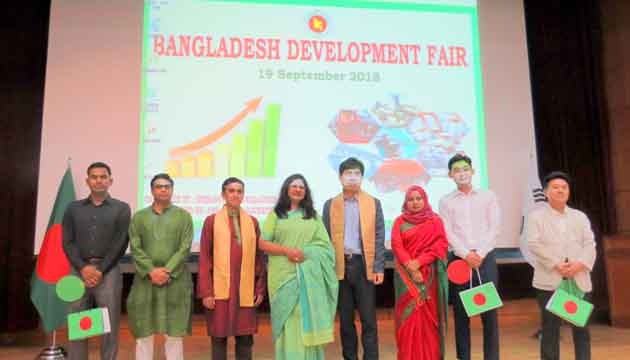 Ambassador Abida Islam began her speech conveying thanks to the Korean government for its continued support in the development activities of Bangladesh. She also gave a brief description of the present government's initiatives for the socio-economic development of Bangladesh. In this connection, she highlighted the Vision-2021 and Vision 2041 of Bangladesh Government and sought increased Korean investments including from the Non-Resident Bangladeshis to achieve the targets outlined in these visions. Finally she expressed hergratitude to the Mayor and the Vice Mayor of Ansan City for extending the necessary support in arranging the first ever "Bangladesh Development Fair" in Korea.
The Guest of HonourMr. Jin-Soo Lee lauded the achievements of Bangladesh in the socio-economic sectors. He added that if we could combine the technology of Korea with the human resources of Bangladesh, then both the countries could have a promising future. He assured of his Government's support in all endeavors of Bangladesh and expressed his desire to visit the country soon.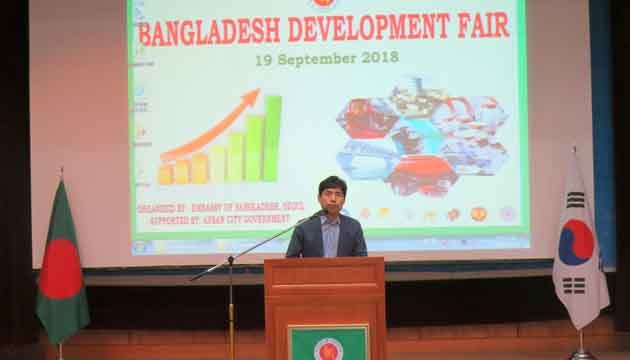 During the Fair, exportable items, tourism related brochures/leaflets, billboards, handicrafts were displayed. Bangladeshi traditional nakshikantha, saree, home textiles items, T-shirts, lungee, panjabi, tea, ceramics, pharmaceuticals products, packaged food items, tea, handicrafts, books, etc, were among the exhibits. The guests showed high interest for the Bangladeshi products. Investment and tourism related brochures and leaflets were distributed among the attendees in the fair.
A documentary on the Bangladesh's development process was screened in the Fair. In the power point presentation, attractive investment incentives and other facilities offered by Bangladesh to the foreign investor'sespecially for the Korean investors were highlighted. After the presentation a cultural program with Bangladesh traditional folk songs, dances were performed.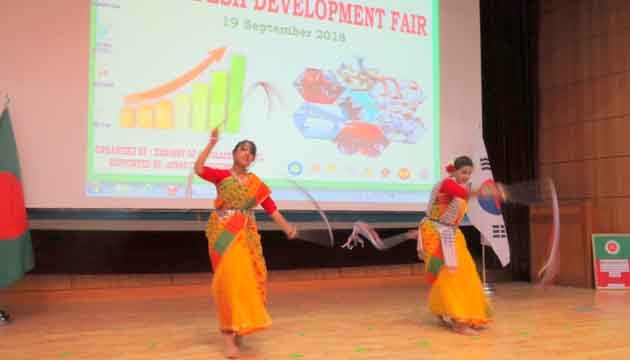 Finally the guests were entertained with Bangladeshi cuisine. The first ever "Bangladesh Development Fair" has made a good sensitivity among the Korean community and Bangladeshi citizens present there.