The humanitarian assistance package from Bangladesh hands over to the Syrian authority
A humanitarian assistance package for the people of Syria from the government of Bangladesh, under the directives of the Hon'ble Prime Minister Sheikh Hasina, arrived at Damascus, Syria yesterday (11 February 2023) by a special flight of Bangladesh Air Force Aircraft C-130J. Nahida Sobhan, Ambassador of Bangladesh to Syria resident in Amman, and Deputy Minister of Local Administration and Environment of Syria Moutaz Douaji, received the relief goods at the Damascus international airport.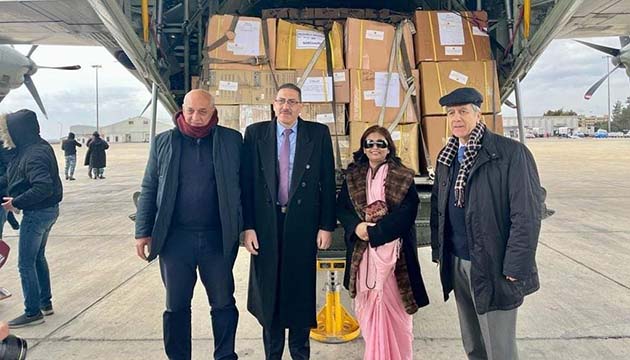 The humanitarian assistance package contains of dry food, medicine, blankets, tents, and winter clothes. The relief goods were later handed over to the International Committee of Red Cross (ICRC) for proper coordination and distribution among the earthquake-affected people in Syria.
Earlier, the Hon'ble President Md. Abdul Hamid, the Hon'ble Prime Minister Sheikh Hasina, and the Hon'ble Foreign Minister Dr. A K Abdul Momen conveyed profound condolences to their Syrian counterparts on behalf of the government and the people of Bangladesh. The Ministry of Foreign Affairs coordinated the whole course of sending the humanitarian assistance package in collaboration with the AFD, BAF, and MDMR in successfully dispatching the relief goods to Syria.