The new Chancery building of the Bangladesh Embassy inaugurates in Lisbon, it's emblematic of the outstanding friendly diplomatic relations between Bangladesh and Portugal. Foreign Minister.
Report By Humayun Kabir from Lisbon, Portugal, The new Chancery building of the Bangladesh Embassy has been inaugurated in Lisbon, Portugal. The Minister of Foreign affairs of Bangladesh   Dr. A.K. Abdul Momen inaugurated this  Chancery building on July 1, 2022. while inaugurating the new Chancery building    Dr. A.K. Abdul Momen said,    the Chancery building symbolizes the presence of a transforming Bangladesh that has just celebrated 50 years of its independence last year, and stands poised to enhance its global footprints by surging ahead with its value-based diplomacy in pursuit of its national development aspirations.
He added that  "This building is not just a mere construction or enclosure, but bears our message to our friends in Portugal that we value our shared history, cherish our present-day human connectivity, and look to our shared future with much anticipation and optimism.
Ambassador Mr. Tarik Ahsan, Rear Admiral (Retd.) Md. Khurshed Alam, BN, officials from the Foreign Ministry, other embassy officials, distinguished Portuguese guests along with leaders and members of the expatriate Bangladesh community were present on this auspicious occasion.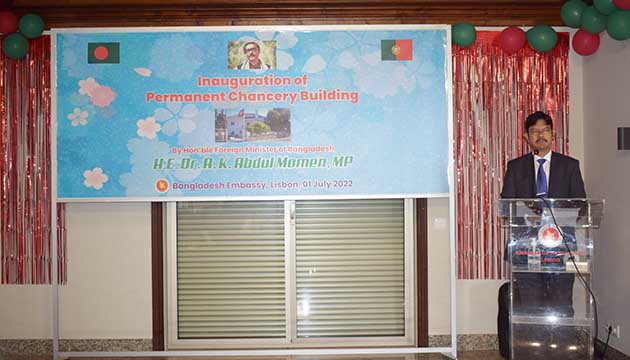 Ambassador Tarik Ahsan, in his welcome speech, said that the permanent Chancery building had been a long-felt need, as the workload of our Embassy has increased manifold, due to its increased activities in consular affairs as well as the pursuit of economic, cultural, and public diplomacy.  He viewed that the new Chancery building would contribute in a big way to strengthening the bonds of friendship between the peoples of Bangladesh and Portugal. He expressed his gratitude to Prime Minister Sheikh Hasina for her directives to establish the permanent Chancery building and Ambassador's Residence in Lisbon.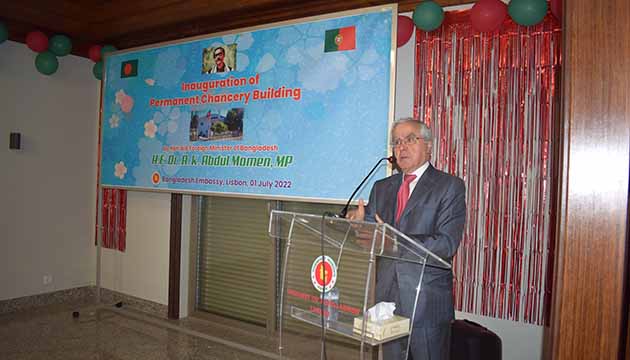 Ambassador Álvaro Mendonça e Moura in his remarks congratulated the Bangladesh government and all the expatriates living in Portugal at this historic moment. He opined that the friendly relationship between Bangladesh and Portugal would be elevated to a higher level with the inauguration of the permanent chancery building in Lisbon.
It may be mentioned that The resident Embassy of Bangladesh in Lisbon was first established in a rented building in July 2012. The government of Bangladesh bought two properties in 2020 for permanent addresses of the Chancery and Ambassador's Residence. Shifting from rented properties to these own properties took place after their remodelling and renovation. The property for Chancery is a three-storied building, based on a land plot of 2,000 square meters. Main features of the property include the reception area, auditorium, Bangabandhu Corner, conference room, dining room, wide exhibition room, consular service area with separate entrance, spacious waiting room, and fountain, apart from office rooms for officials as well as large open space suitable for hosting big public events. This is one of the largest Chancery buildings of Bangladesh in Europe.