The newly appointed German Ambassador to Bangladesh presents credentials to President.
The newly appointed German Ambassador to Bangladesh Mr. Achim Tröster has presented his credentials to President M Abdul Hamid at Bangabhaban on 12 August 2021.
Welcoming the new envoy, the President said Bangladesh always maintains very excellent relations with  Germany and the ties are gradually expanding in various fields, particularly in trade and investment, with this country.
During the meeting with the German ambassador, President Hamid said Germany is one of the development partners of Bangladesh.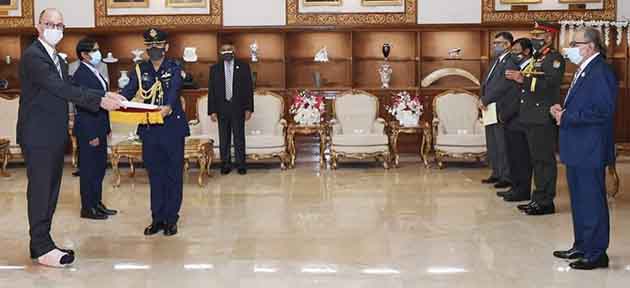 He said Germany is one of the important export destinations of Bangladesh. There is an ample opportunity to increase trade with Germany in various sectors, including readymade garments (RMG), leather goods, and frozen foods.
The head of the state hoped that trade between the two countries would further increase during his tenure as the new envoy.
He asked German investors to invest in various sectors, including special economic zones and high-tech parks as a very trade-conducive environment is prevailing here.
On the Rohingyas repatriation issue, President Hamid sought Germany's cooperation, expressing the hope that the German government would continue to put pressure on Myanmar authority to take their displaced citizens back to Myanmar.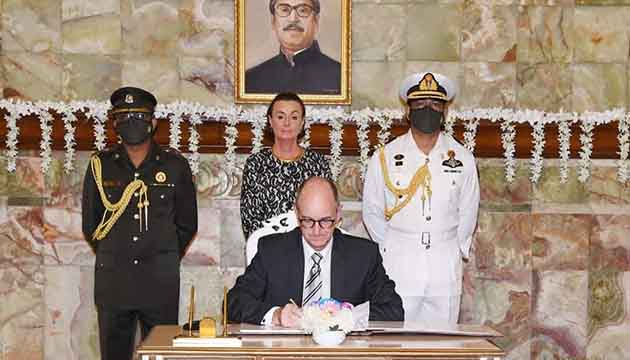 The German ambassador has sought President's all-out cooperation in discharging his duty in Bangladesh.
Foreign Secretary Masud Bin Momen, President's Office Secretary Sampad Barua, Military Secretary Major General SM Salah Uddin Islam, Press Secretary Md Joynal Abedin, Secretary (attachment) Md Wahidul Islam Khan were present on the occasion.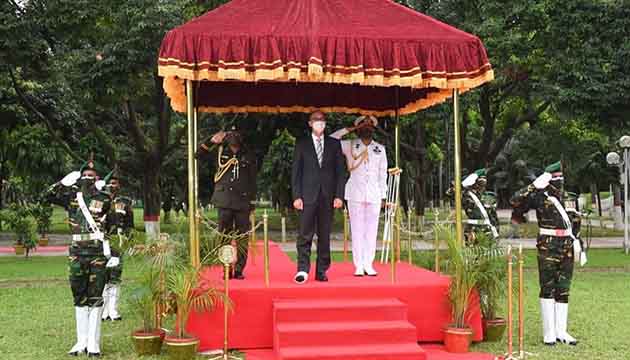 Earlier, on his arrival at Bangabhaban, a smartly turned-out contingent of the horse-mounted President Guard Regiment (PGR) has given the envoy guard of honour.