The Nordic Chamber of Commerce and Industry (NCCI) in Bangladesh hosts an event titled "Green financing for sustainable growth"
Report By Humayun Kabir , From Bangladesh.
The Nordic Chamber of Commerce and Industry(NCCI) in Bangladesh,in cooperation with the Royal Norwegian Embassy, the Royal Danish Embassy and the Embassy of Sweden in Bangladesh, organized an event titled "Green financing for sustainable growth" on 18 September 2019, in Dhaka .The event was co-hosted by GIZ, Germany.
At the beginning of this event in an Introduction and Welcome speech Mr.Tareq Rahman , President of NCCI said, the NCCI started its journey in 2010, with very specific vision and I had the privilege to be part of this illustrious journey since its inception. Our mandate is to promote the interest of the Nordic business operating in Bangladesh. It is one of the only two unilateral Chamber of Commerce in Bangladesh, American Chamber being the other.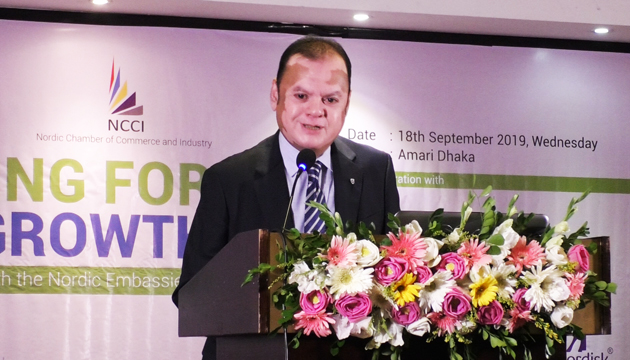 Over the years, NCCI has been busy in promoting business and growth in Bangladesh. 80% of our members are of Nordic investments in Bangladesh. Our charteris to provide a common platform for the Nordic companies having unified voice and to promote Nordic values in business.Green & Sustainability are cornerstones of Nordic values today
 Similarly, in a strong and unified voice for the Nordic Companies, NCCI has always advocated for sustainability and green growth.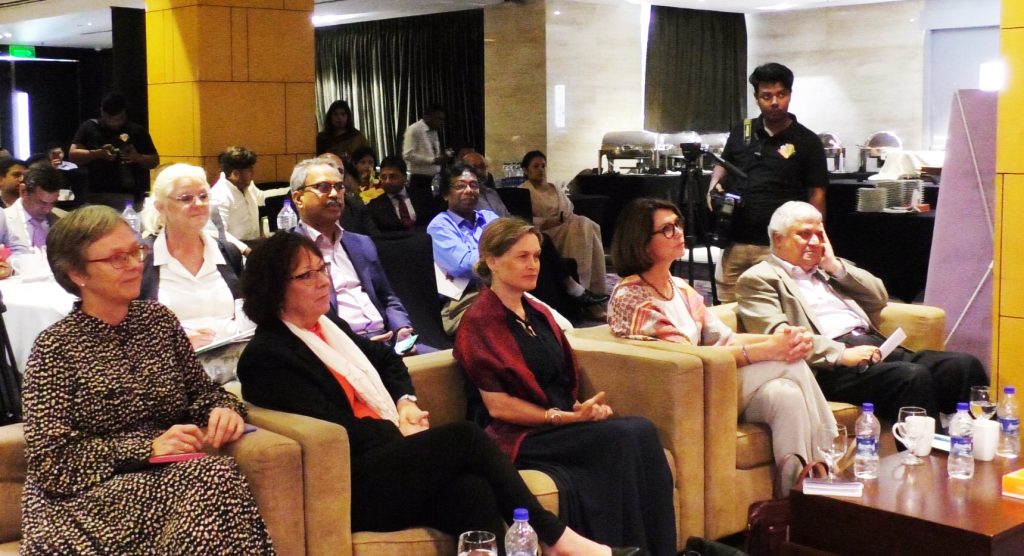 He added that ,NCCI implemented an Energy Efficiency Engagement called 3e funded by DANIDA. The project provided energy assessments of local factories and industries, which showed that profitability and sustainability can go hand in hand, while developing a knowledge hub to showcase the benefits of energy efficiency for the local industries.
He has conducted more than 65 energy assessments of factories in several sectors.The findings from the assessment reports show that on average companies can save 17% of energy consumption, 21% of energy costs and 18%of CO2 emissions.
Today, we have tried to bridge that gap by having various stakeholders in our list of speakers – the policy makers, the banking sector, advocacy groups and business leaders.
Mr.Tareq Rahmanalso said ,I hope this seminar, will act as a facilitator to encourage more sustainable practices, create healthier environment, and increase economical sustainability.
We will continue to advocate, for sustainable business practices, and look forward to organize, more large-scale events for a wider multi-stakeholder, dialogue to mainstream, better policies, that will uphold corporate responsibilities of businesses in the near future.
The Danish Ambassador Winnie Estrup Peteresen, the Norwegian Ambassador Sidsel Bleken and the Swedish Ambassador Charlotta Schlyter also expressed their continuing support for green financing, a priority for the Nordic countries.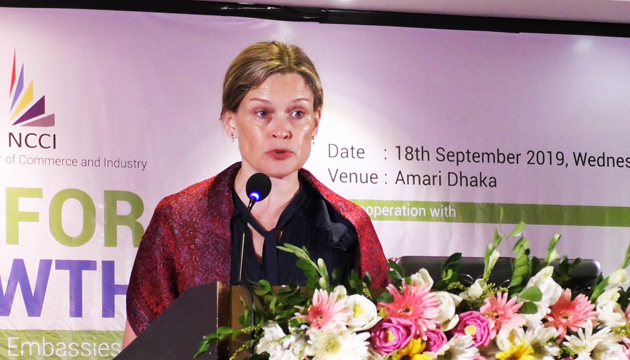 Economic Affairs Adviser to the Prime Minister Dr Mashiur Rahman graced the event as the chief guest. He said "If we want to see an equitable world, it would be necessary to raise the resources available and change the method of financing projects and the technology for the choice of the projects which are environmentally friendly, environmental retentive and environment and resource augmentative."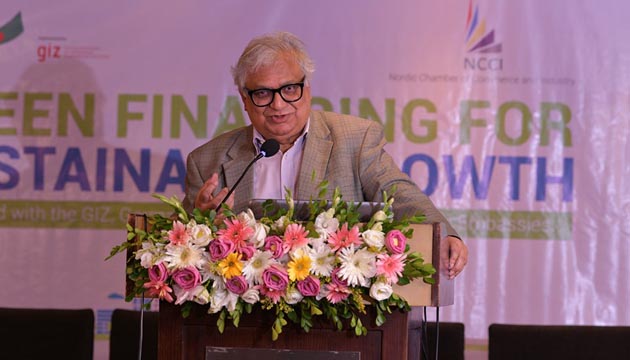 As special guest, Dr. Cecilia Ruthström-Ruin, Head of Department for Asia and the Pacific of the Swedish Ministry for Foreign Affairs emphasized that public procurement represents an opportunity for states to use their leverage to ensure that they have a positive transformational impact on local societies and fulfill the Sustainable Development Goals.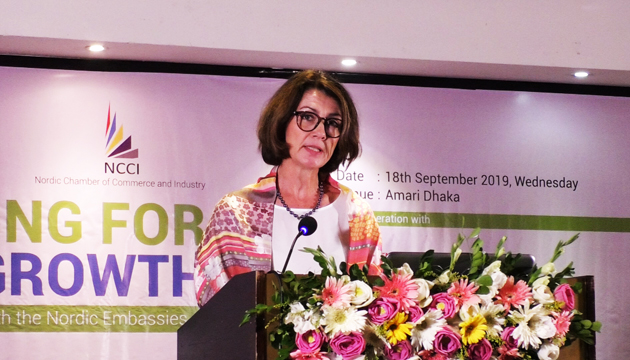 Addressing the event, Senior Vice President, BGMEA, Faisal Samad highlighted that green factories are not receiveing any added benefits from financial institutions or their customers, which is detrimental not just for the environment, but the entire industry.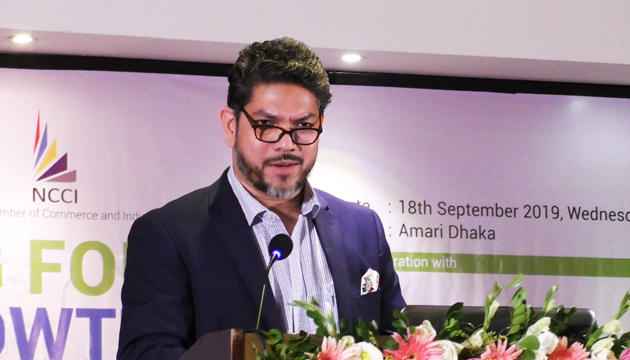 The key note presentation was given by Director, Training Bangladesh Institute of Bank Management (BIBM) Dr Shah Md Ahsan Habib.In his keynote paper, Dr SM Ahsan Habib addressed the forces at play which has increased the interest in Green Financing, amonst other things.
Managing Director, Bank Asia Ltd,Md Arfan Ali and Managing Director of IPDC Mominul Islam highlighted the credit creteria and modalities associated with green funding thorough Bangaldesh Bank.
General Manager, Sustainability, Bangladesh Bank,Khondokar Morshed Millat, enlightened the attendees on policy perspective of the central regulatory authority and its on going cooperation with several funds to facilitate and promote usage of green financing by local businesses.
Various scopes of green financing were also presented by Sabastien Auer of GIZ, Germany,Md Arfan Ali, President and Managing Director, Bank Asia Ltd, Monimul Islam, Managing Director and CEO, IPDC, and Bangladesh Bank.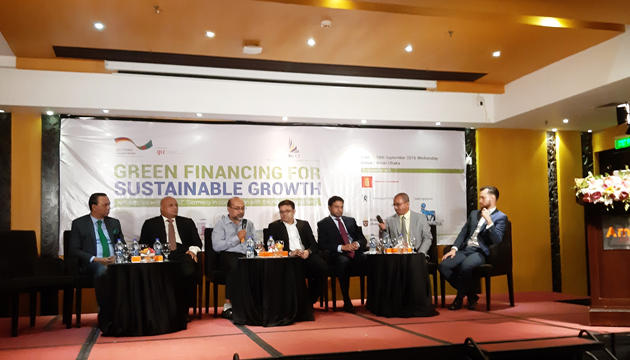 Later a panel Discussion followed by Question and answer session has been taken place at the event.
The aim of the program was to bring together members, financial institutions, regulatory bodies, academics, policy makers and advocacy coalitions to bridge the information gap related to green financing in the market. Foreign dignitaries and business leaders were also in attendance.
The organizers encouraged discussions on potential recipients, facilitators and stakeholders of funds and on the opportunities, benefits and challenges associated with availing such finance.NCCI members and stakeholders were also introduced to the policies and regulations in place to access green finance.
The speakers highlighted the importance of formulating capacity development strategies to create a more enabling environment for the private sector to invest in green and sustainable projects.