The US Ambassador paid a farewell call on the Foreign Minister
The outgoing Ambassador or the United States Mercia Bernicat paid her farewell call on the Foreign Minister at the State Guest House Padma today on 30  october 2018.  The Foreign Minister congratulated her on her successful completion of the tenure in Bangladesh. He expressed deep appreciation of the role the Ambassador played in further deepening the ties between Bangladesh and the USA. The Ambassador also conveyed her gratitude for all the support and cooperation she received from different government agencies including the Ministry of Foreign Affairs during her almost four years long stay in Bangladesh. She highly appreciated the role of the present Government in the socioeconomic  development  of Bangladesh.  She assured that her Government will keep on continuing the support for Bangladesh in its journey towards progress and prosperity. The  Ambassador also lauded the relentless efforts of the Prime Minister and  stated that under her dynamic leadership, the country has made remarkable  progress and she has given the confidence to her people  too  bring positive changes to their lives.
The Foreign Minister emphasized that the USA should also extend support in resolving the Rohingya issue. The Ambassador reiterated that her Government   is paying special attentions to this and will do more to bring a lasting solution. He noted that Bangladesh is engaged  in negotiation with Myanmar   and also expressed  hope that international community will keep up the pressure on Myanmar to have  the repatriation process started at the soonest possible time. The recent development taking place with regard to their resettlement in Rakhine was also discussed at length.
The US Ambassador mentioned that the US government is considering higher investment in energy sector  and some big private companies are also  showing interest in  investment  in different sectors. She  mentioned that investment from GE  or Cocacola companies will act as a big  confidence booster  for further investment into Bangladesh.. The trade volume between the two countries are also showing very positive trends in the last couple of years, she added. She remarked that Bangladesh should aggressively try to   penetrate the US market with products other than garments. She opined that with the continuation  of current  pace of trade  and  investment, the relations between the two countries will be  further cemented.  The Foreign Minister again thanked the Ambassador  for her active role in this and wished her success and good health.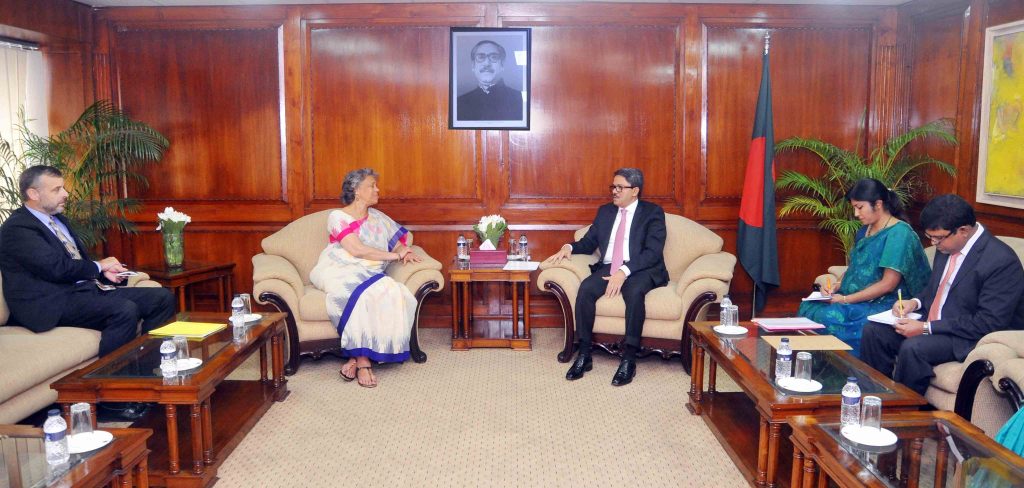 In the afternoon, the Ambassador  also  called on the  State  Minister for  Foreign Affairs at  his office  to say   goodbye.