Theneo, an AI startup from Georgia wins PITCH competition at the web Summit – 2022
Web Summit -2022, Report By Humayun Kabir from Lisbon, Portugal . This year Almost 2,300 startups – representing dozens of industries and hundreds of countries worldwide – joined the web summit in Lisbon. The event was these startups' chance to meet investors and learn from tech experts, no matter where in the world they hailed from.
PITCH, in partnership with Siemens, is Web Summit's startup competition, bringing together the world's leading early-stage startups for a live onstage battle. 105 of the 2,296 startups exhibiting at the Web Summit competed in the group rounds of PITCH. The final, held on Web Summit's Centre Stage this afternoon, saw Theneo crowned as the 2022 winner, with Gattaca, an enterprise software solutions startup from Spain, and Biome Diagnostics, a MedTech and pharma startup from Austria, finishing as runners-up.
The three finalists pitched to a judging panel comprising Y Combinator president Geoff Ralston, Monte Carlo co-founder, and CEO Barr Moses, 500 Global founding partners and CEO Christine Tsai, and Siemens Xcelerator's Bettina Rotermund – all heavyweights in the investment and startup world.
Theneo is an AI platform that allows users to import API collections, drag and drop requests, and convert them into a variety of programming languages. As an API tool, Theneo is designed for all team members, from developers to non-technical team members.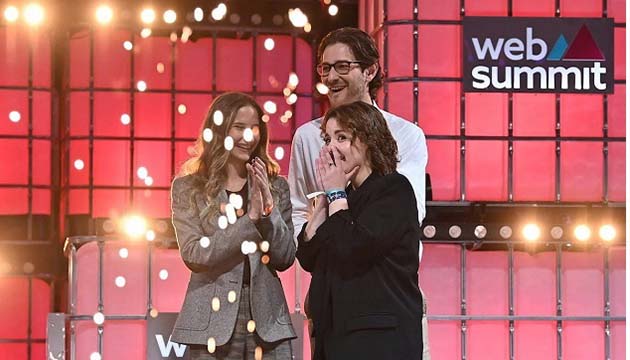 "The funny thing is, last year, we didn't get into the PITCH competition at all. I was watching as an attendee, and I said, 'One day, I want to be there on the stage. I didn't expect that I would get to the semi-finals this year, but it happened, and then the finals. It feels surreal," said Ana Robakidze, Theneo founder and CEO.
Theneo bucks the trend of the last three years, during which PITCH winners – Smartex, Lalibela Global-Networks, and Nutrix – have all been MedTech startups.
"We are the first Georgian company to ever go this far in any kind of big startup competition. So I feel like it's beyond just me or my company. It also represents a lot for my country. Unfortunately, not a lot of people know about the startup ecosystem in Georgia. There are so many great startups, and I feel like I'm also representing them."
Last year's PITCH winner, Smartex – a MedTech company from Porto – revealed on stage at Web Summit yesterday that it has raised US$25 million in its Series A funding round.