Tokyo mission observed the Shaheed Dibash and International Mother Language Day with due respect.
The Shaheed Dibash and International Mother Language day was observed with due respect by the Embassy of Bangladesh in Tokyo, Japan. On 21-02-2020, Friday at 7.30 am the day started with placing of the floral wreath in memory of the language martyrs at the Shaheed Minar situated at the Ikebukuro Nishiguchi Park in Toshima city in Tokyo.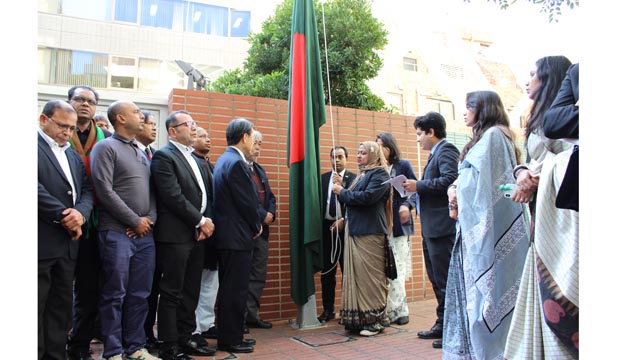 Charge d' Affaires, Dr. Sahida Akter,Vice Mayor of Toshima city Mr. Masato Saitoand embassy officials placed the floral wreath at the altar of the Shaheed Minar.Later Non-resident Bangladeshis paid their homage at the altar of the Shaheed Minar with due manner and respect.
The second part of the program was held at the embassy premises when the national flag hoisted at half-mast byCharge d' Affaires. One minute of silence was observed and special prayer (Munajat) was offered for the salvation of the departed souls of Language Martyrs. Besides, at the Bangabandhu Auditorium of the embassy, the messages given by the Honorable President, Prime Minister, Foreign Minister and State Minister for Foreign Affairs on the occasion were read out to the audience respectively by Counsellor Dr. Ziaul Abedin, Dr. Ariful Huq, Md. Zakir Hossain and First Secretary Md. Shiplu Zaman.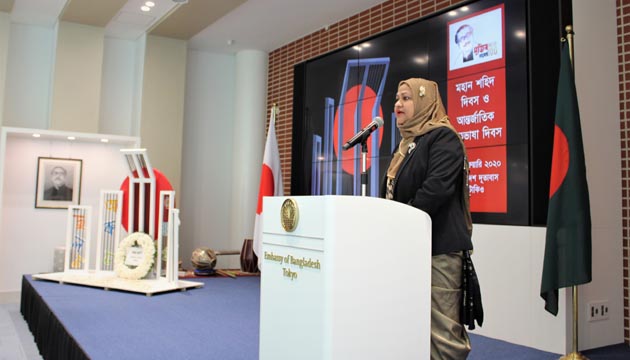 Later Dr. Sahida gave her welcome speech where she paid homage to the Father of the Nation Bangabandhu Sheikh Mujibur Rahman and to the Language Martyrs . She explained the background of the Mother Language Movement of 1952and urged all to participate and support at the events undertaken by the embassy to mark the 'Mujib Year'.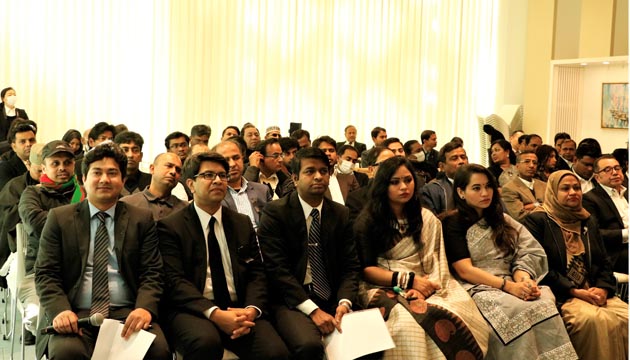 Representatives of the Bangladeshi community living in Japan participated in the open discussion on the significance of the day. A video documentary on the language movement was screened at the program.
All the officials and staffs of the embassy were present at the program. The program was conducted by First Secretary of the embassy Mr. Arif Mohammad.