U.S. Donates One Million Pfizer Vaccines to Bangladesh through COVAX 
U.S. Ambassador Earl R. Miller welcomed the arrival of one million doses of Pfizer's COVID-19 vaccine to Bangladesh, donated by the United States as part of the U.S. Government's commitment to purchase and donate 500 million doses of Pfizer vaccines globally.  The Pfizer vaccines build on earlier donations of Moderna vaccines for a total of 6.5 million doses gifted by the U.S. Government and the American people to the people of Bangladesh.
Senior Secretary of the Health Service Division Lokman Hossian Miah, Director General of the Directorate General of Health Services (DGHS) Professor Abul Bashar Mohammad Khurshid Alam, and other Government of Bangladesh officials joined Ambassador Miller and the U.S. Agency for International Development (USAID) Mission Director Kathryn Stevens to receive the shipment of vaccines, facilitated through COVAX, at Hazrat Shahjalal International Airport.
"We are pleased to donate another one million vaccines as a gift from the American people to the people of Bangladesh, and we are grateful to COVAX for facilitating the delivery.  Donating vaccines is just one part of our broader partnership with Bangladesh to combat the COVID-19 pandemic.  The United States is the largest donor of COVID-19 assistance to Bangladesh, contributing not only 6.5 million doses of vaccines – so far – but also over $96 million to battle the pandemic." said Ambassador Miller.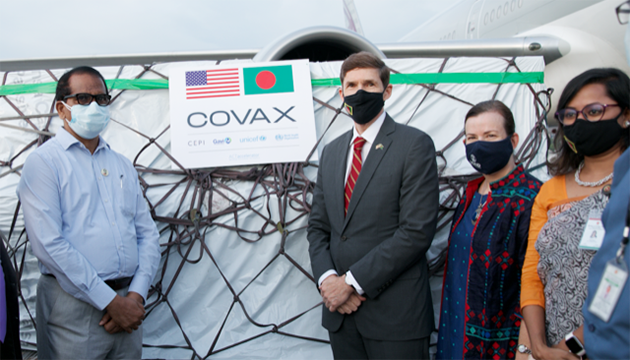 This delivery of Pfizer vaccines comes as part of the broader commitment by President Biden and the United States to lead the global COVID-19 response by donating 500 million doses of Pfizer vaccine around the world—the largest-ever purchase and donation of COVID vaccines by a single country to date.  The United States has already committed $2 billion to support the worldwide COVAX effort, with a pledge of an additional $2 billion, making the United States the world's largest donor for equitable global COVID-19 vaccine access.
In addition to vaccine donations, the United States continues to work closely with Bangladesh to support the national COVID-19 vaccination campaign and strengthen the government's response to the pandemic.  U.S. investments trained thousands of healthcare providers and volunteers to administer vaccines safely and efficiently and protect the health of Bangladeshis.
To date, the United States has contributed over $96 million in COVID-related development and humanitarian assistance from USAID, the U.S. Department of Defense, the U.S. Department of State, and the U.S. Centers for Disease Control and Prevention.  This assistance has helped save lives and treated individuals infected with COVID-19, strengthened testing capacity and monitoring, enhanced case management and infection prevention and control practices, and improved the supply chain and logistics management systems.  U.S. support also focuses on protecting front-line workers and increasing the public's knowledge about COVID-19, including ways to protect themselves.