UAE National Day Observed in a befitting manner in Dhaka.
The UAE Embassy in Dhaka celebrated the 48th National Day, with the slogan of "Year of tolerance" on Thursday amid great festivities and enthusiasm.
On the occasion, the Embassy held a grand reception at a city hotel. Finance Minister AHM Mustafa Kamal attended the reception as the chief guest.
Ambassadors, Heads of diplomatic Missions, Ministers, Members of Parliament, High government officials, business persons, media personalities, and personalities from academic and social institutions also attended the ceremony.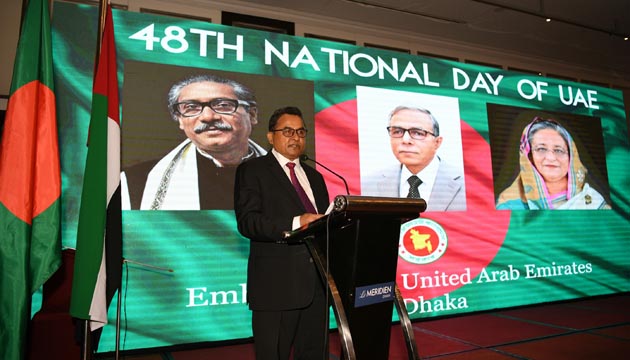 A feeling of total joy swept over the audience as Mr. Abdulla Ali AlHmoudi, Chargé d'affaires of the UAE Embassy, Dhaka along with the guests, took to the stage to inaugurate the celebration amid a thunderous applause.
The National Day celebrations brought a taste of home to the members of the UAE community in Bangladesh.
In his welcome speech, Mr. Abdulla Ali AlHmoudi mentioned UAE's remarkable achievements of the UAEover the past 47 years. The UAE envoy also highlighted the glorious journey of UAE ties over four decades of Bangladesh.
On this historic occasion, he said UAE and Bangladesh have been enjoying the best of relations for decades, which has reached a new height in recent years. These ties are based on the principles of cooperation and mutual respect. The mutual visits of the leaders and officials of the two countries, and the gradually-increasing levels of trade, economic and cultural exchange, along with investment in different sectors, are a powerful indicator, which stands witness to the strength of bilateral relations in various fields''.
He also hoped that the existing excellent relations would be further expanded in-depth and dimension in coming days.
Mr. Abdulla Ali AlHmoudi also noted that The UAE has championed the values of tolerance and multiculturalism, rejecting discrimination and hatred. Today, almost 200 nationalities are living in the UAE in harmony as their second home without any discrimination.
He said one of the most significant indicators of the success of the UAE diplomacy is the strength of the UAE passportas it achieved in 2018 the first rank in the world according to the World Passport Index, reaching 163 countries visa-free.
In his welcome speech Mr. AlHmoudi also said, the world's greatest show Expo 2020 Dubai will host 190 participating countries and millions of visitors from across the globe. Here they will experience UAE's values of inclusion, tolerance and cooperation. Expo 2020 aspires to create a meaningful legacy that will benefit future generations globally, it'll be a time to create, collaborate and innovate.