UNDP Resident Representative Presents credentials to Foreign Minister
The newly appointed Resident Representative of the United Nations Development Programme (UNDP) in Bangladesh Mr. Sudipto Mukerjee, presented his credentials to the Foreign Minister Dr. A. K. Abdul Momen, M.P.
Welcoming the new resident representative, the Foreign Minister expressed deep appreciation for the long-standing cooperation between Government of Bangladesh and UNDP in the field of capacity building, inclusive and sustainable policy making, development governance which dates back to 1972.
The Foreign Minister thanked UNDP for its longstanding partnership with the Government of Bangladesh and he expressed hope that the cooperation between Bangladesh and UNDP in the field of implementation of Sustainable Development Goals (SDG) will be continued.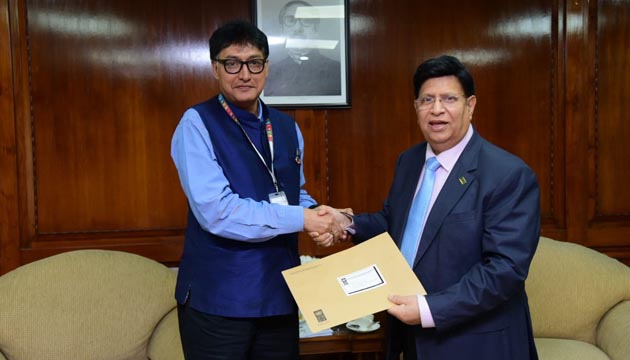 The Representative of UNDP thanked the Foreign Minister for accepting his credential. He lauded Bangladesh's remarkable achievements in the field of technology and capacity building. He also assured that UNDP will continue to work with the Government of Bangladesh for the overall development of Bangladesh from grassroots to national level.
Before his designation as Resident Representative of UNDP to Bangladesh, Mr. Mukerjee has been working in Bangladesh as the UNDP Country Director since October 2016.