UNICEF Ambassador for Japan, Mr. Makoto Hasebe's visit to the refugee camps in Cox's Bazar
On June 5th and 6th, Mr. Makoto Hasebe, one of the most prominent Japanese football players currently playing for Eintracht Frankfurt of Bundesliga, visited the refugee camps in Cox's Bazar as the UNICEF Ambassador for Japan to raise awareness of Japanese people on the situation of the refugees in Cox's Bazar.
During his stay in Cox's Bazar, he visited facilities such as emergency nutrition centre or learning centre for youth and children. He also enjoyed playing football with the children in the refugee camp.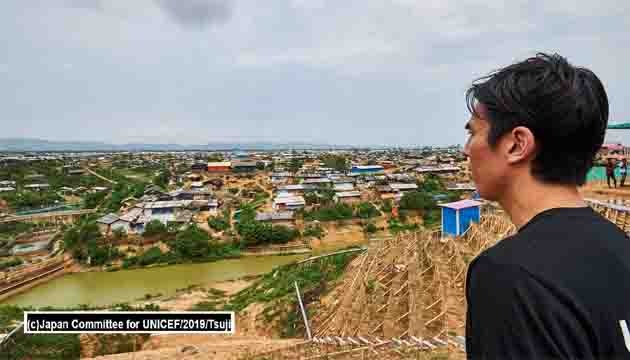 In the address made at the joint press conference held in June 6th at the official residence of Japanese Ambassador, Mr. Hasebe noted "This is my very first visit to Bangladesh, and I was surprised to see the scale of the Rohingya camps in Cox's Bazar. It is very important to work on this difficult situation as the whole international community. I would like to continue supporting the Rohingya people so that they can develop visions for the bright future". Ambassador Izumi expressed his appreciation to Mr. Hasebe for coming to Bangladesh to deepen the understanding of the people of Japan on the refugee crisis. He also placed emphasis that Japan and Japanese people always stand with those who are suffering from the crisis, and will continue to work with Bangladesh in humanitarian supportthat. Mr. Tomoo Hozumi, the country representative of the UNICEF Bangladesh mentioned that education for the young generation in refugee camps is very important and further support is needed to improve the situation.