United States is committed to strengthen the bilateral partnership between the two countries – U.S. Ambassador Peter Haas
The U.S. Ambassador Peter Haas and State Minister for Foreign Affairs Shahriar Alam opened a special photo exhibition, Roots of Friendship:  50 Years of U.S.-Bangladesh Relations at the Edward M. Kennedy Center for Public Service and the Arts (EMK Center) to reflect on over 50 years of enduring bilateral relations and people-to-people ties between the United States and Bangladesh.
Inaugurating the exhibition, Ambassador Haas said, "This photo exhibition is a testamentof the enduring relations and people-to-people ties between the United States and Bangladesh, which only have grown stronger over time."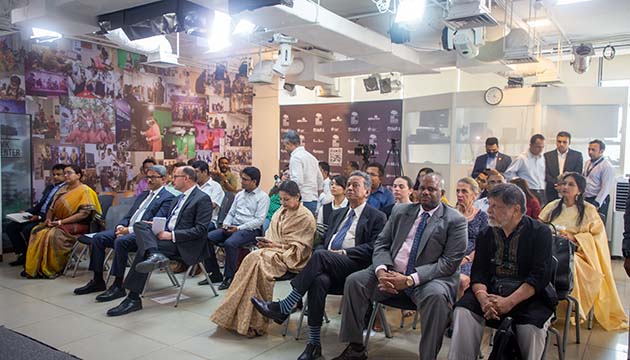 An extended celebration of the 50th anniversary of bilateral ties between the United States and Bangladesh, this exhibition of 50 historic photographs represents six distinct categories.  The "Early Contact" category features the initial seeds of friendship and collaboration between Bangladeshis and Americans—early immigrants, artists, scholars, architects, doctors, and entrepreneurs—prior to Bangladesh's independence in 1971.  The "Official Visits" category showcasesvisits and meetings of the U.S. and Bangladeshi heads of state.
The "Aid & Infrastructure" category covers the United States' support for Bangladesh's development over the decades.  The "Trade & Business" category features the vibrant bilateral trade relationship.  The "Education & Science" category shows how Bangladeshi and American scientists and scholars have collaborated for decades on a wide variety of research projects.
Finally, the "Culture & Diaspora" category portrays how over half a century, both countries have connected through cultural expression. The physical exhibition will continue at the EMK Center until June 14, 2023, while the virtual exhibition can be accessed at https://culture.meridian.org/50yearsusbd.