Venezuelans leave their country despite border restrictions.
Two months ago, 23-year-old Gregoris Suarez made a pact with three friends on his city block.
They promised each other they would join the massive exodus of people from their native Venezuela and make their way to Peru.
By mid-August, they had made contacts with Venezuelans in Peru who could help them get housing and jobs, sold off a few possessions and raised money from family members to make their trip.
But with announcement by Ecuadorian and Peruvian officials last week that their countries would begin denying entry to those crossing their borders without passports, the plans of many Venezuelans hoping to flee were suddenly put up in the air.
For Suarez and his friends, however, they never considered giving up.
"What choice to we have but to migrate?" he said, standing with his friends beside piled luggage at the bustling Venezuelan border on Friday.
Suarez, a former construction worker from Valencia, is an example of the thousands of Venezuelans who prefer to try their luck at freshly tightened borders over weathering the poverty and hunger of their own crumbling country.
"If they don't let us through, we'll find a way to get through," Suarez told Al Jazeera.
According to the UN, there were more than 2.3 million Venezuelans living abroad as of June. Nearly half a million entered Peru from 2017 through June of this year, the United Nations Office for the Coordination of Humanitarian Affairs reported.
The mass exodus has been driven, in part, due to hyperinflation. The country continues to suffer from food and medicine shortages and a political crisis that has left much of the country polarised.
     'We're going in search of a better life'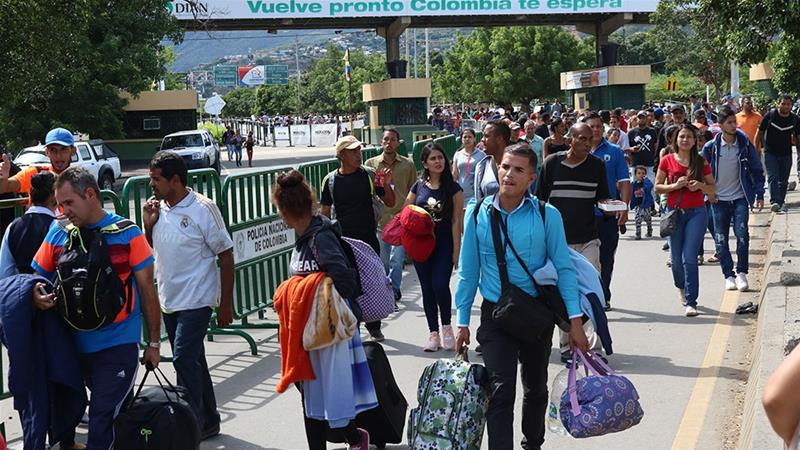 At the Simon Bolivar International Bridge connecting Colombia and Venezuela, tens of thousands of people cross every day. Most dip into Colombia to buy food or medicine then return home. The rest line the roadway, seated in the shade atop the heaps of luggage they packed to start a new life abroad.
Many Venezuelans who cross the border do so with no documents or only a paper id. Most can't afford the more than $1,000 in bribes or several months of waiting required to get a passport as Venezuela's bureaucracy crumbles.
"The price of the passport has gone up because it's all controlled by mafias," said Iren Garcia, a 37-year-old refinery worker from Lara state.
"The majority of Venezuelans want to leave but don't have resources," he told Al Jazeera.
But for others, the desperation has driven them to make the journey without a passport in hopes of making it to their final destination.
Carlos Brisuela , 41, sat with his friend on a Colombian street curb near the Venezuelan border, holding their luggage and pondering their next move. They are aiming to make it to Ecuador, where they hope friends will help get them a job.
Neither could feed their families, even though they full-time jobs in Puerto la Cruz in eastern Venezuela, so the two men sold Brisuela's car and made the two-day travel to Colombia, sleeping in bus terminals along the way.
"We don't have money. We don't have anywhere to go. We came in the hands of God," Brisuela told Al Jazeera. "We're going in search of a better life.
Source – AL JAZEERA