Venezuela's President Nicolás Maduro has won re-election to another six-year term, but the rival candidate calls for new vote.
Venezuela's President Nicolas Maduro won a new six-year term on Sunday, the election board announced in what is being seen as a controversial vote.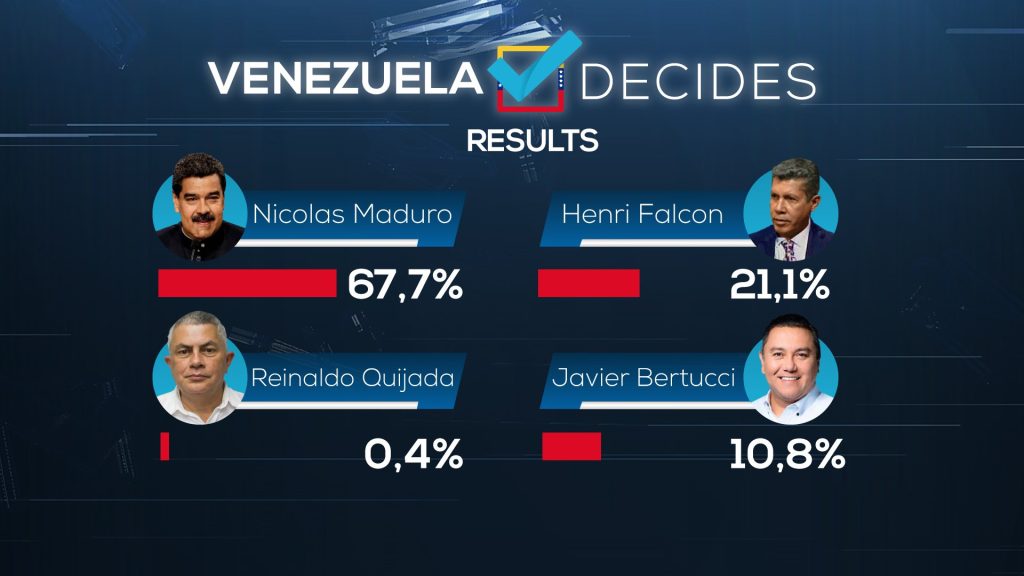 According to the results announced by Tibisay Lucena, president of the National Electoral Council (CNE), President Maduro obtained 5.8 million votes, and Henri Falcon, Maduro's main opponent, collected a total of 1.8 million votes.
The turnout was 46.01 percent and the projection was at 48 percent, a total of 8.6 million Venezuelans voted, the CNE reported.
"This was a historic day!.. the day of a beautiful victory," Maduro said outside the presidential palace in Caracas on Sunday night.
"They underestimated me," Maduro told supporters, as fireworks went off and confetti was fired in the air.
"Never before has a presidential candidate taken 68 percent of the popular vote," he said. "We are the force of history turned into a permanent popular victory."
But his main rival, Falcon, called for a new vote, alleging the vote was marred by irregularities and lacked legitimacy. "We do not recognise this electoral process as valid," he told local media. "There must be new elections in Venezuela."
Source – AL JAZEERA